Qballcious

-

4-4-2005 at 07:41 PM



I spent all winter hoarding performance goodies for the Terc. I finally had one free day and awsome weather so I decided to start modding -sly-


I took lots of pics so here's a DIY Qball style...






---------------------------------------------------------------------------------------------------------------------------------------------

Before you start. Put the transmission in 1st gear if it's Manual. Make sure it's in "park" if it's an automatic. I had my Terc on 4 jackstands so I did none of that.

Jack up the back of the car using the factory lift points on the rocker panels and then place jack-stands under the rear axle. Now remove the wheel.

Let's get down to business.


This is the little nasty rusty drum brake setup Toyota equiped our Tercels with. Although completly adequate for the weight of the vehicle, it just looks plain fugly when you've got some sweet alloys on your ride.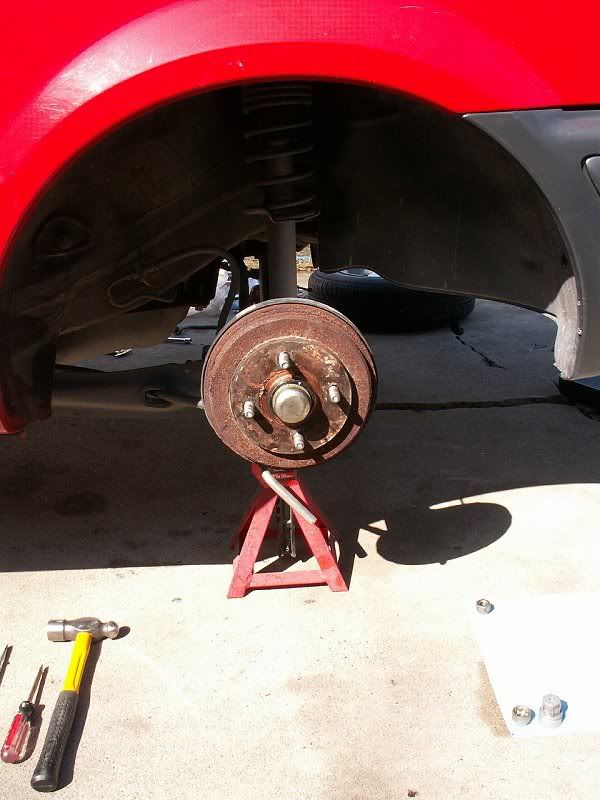 Start by removing the dust cover using a flat-head screwdriver/chisel and a hammer. Tap the cap alternating sides to pop it off.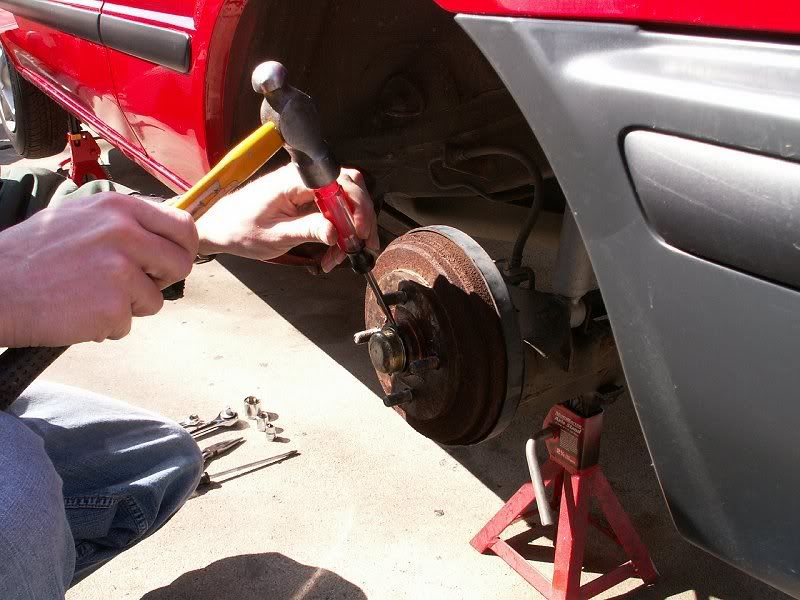 Now you'll see the cotterpin and nut retainer. Remove the pin using a set of needle-nose pliers to straighten the pin legs and then pull it out. The nut retainer should come right off after the pin has been removed.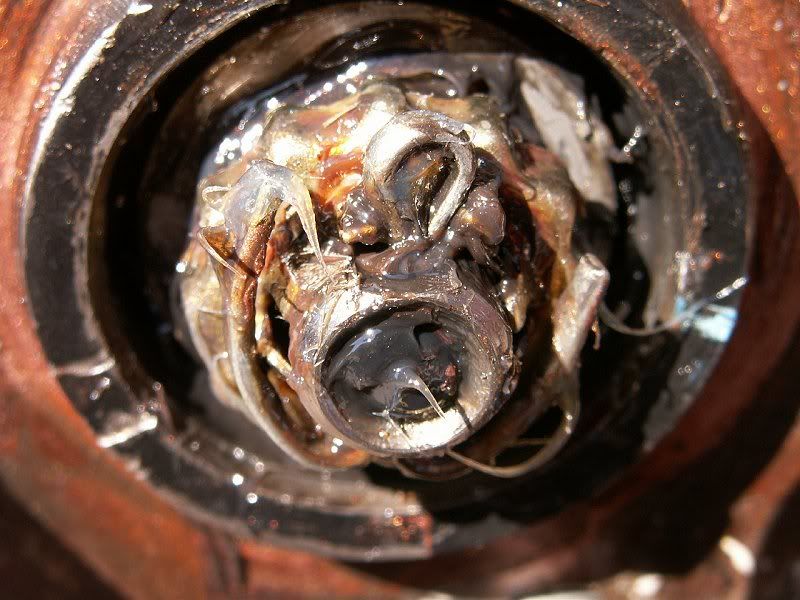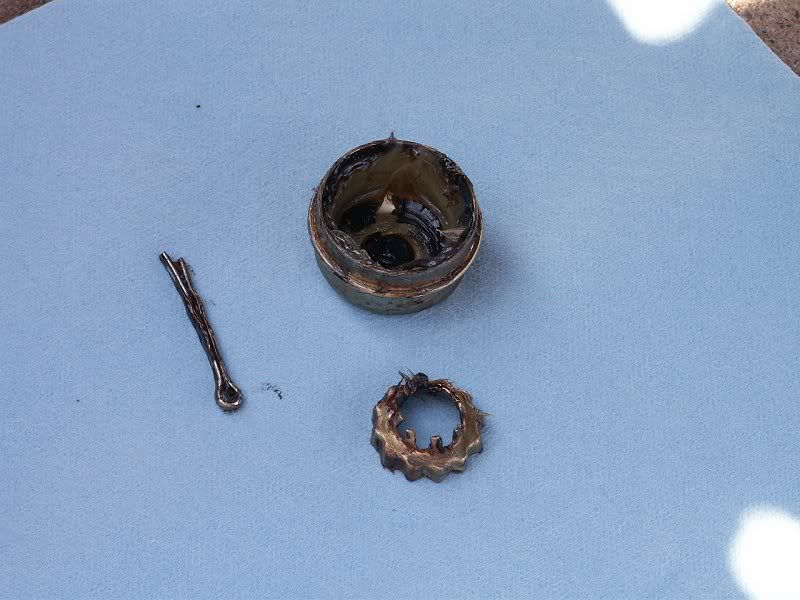 Now remove the nut with a 22mm socket. Both sides of the car use regular thread. No reverse threads here. So "righty-tighty, lefty-loosy" applies here too.:D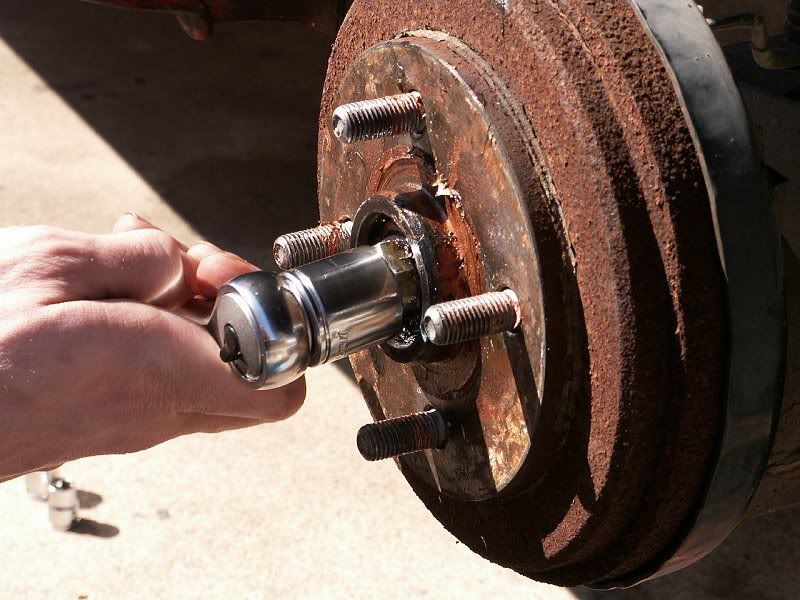 Remove the washer.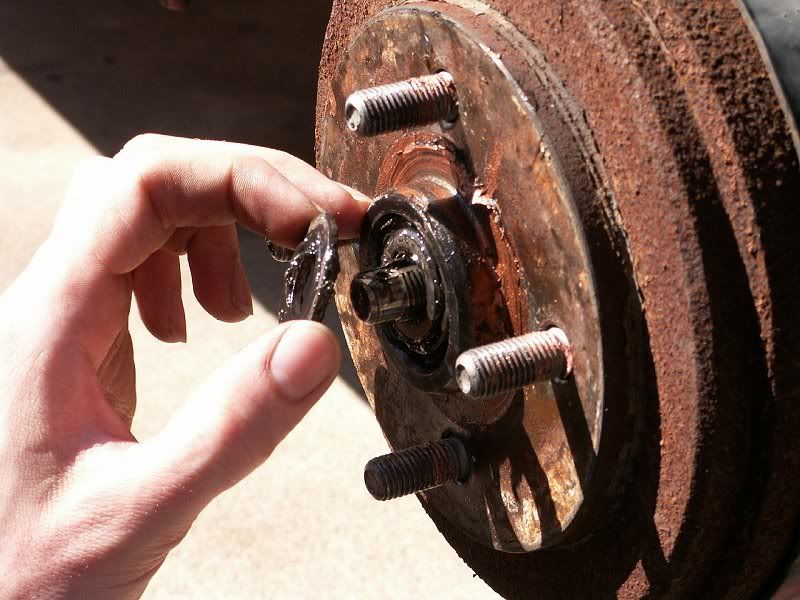 The bearing should now come out easily.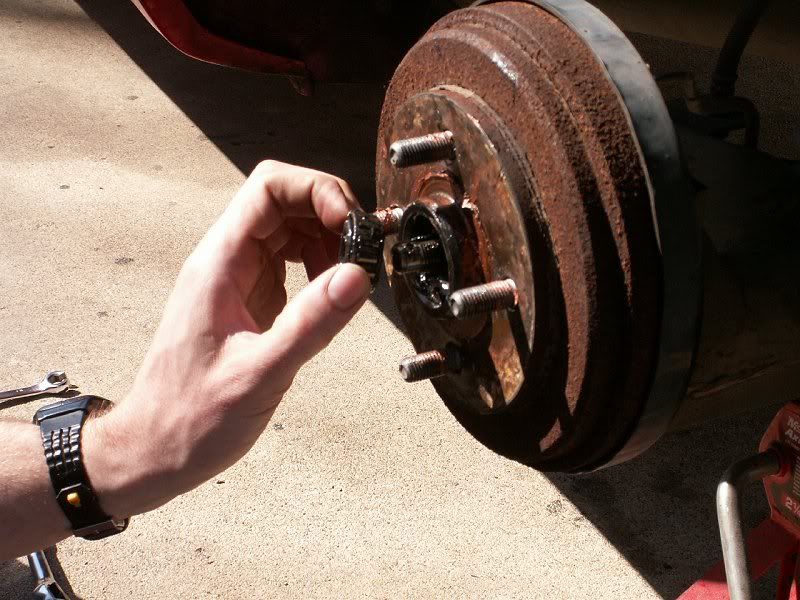 After the bearing has been removed the drum should come off. There may be some hesitation. If you need better leverage, try putting the wheel back on with a couple of lugnuts and use it for leverage. There is also an adjuster inside the drum brake assembly that can be accessed through a hole in the backing plate which is plugged with a rubber grommet. Release the shoes like that if you just can't get the drum off otherwise. Older drums usually have lips worn into the drum which makes them harder to remove.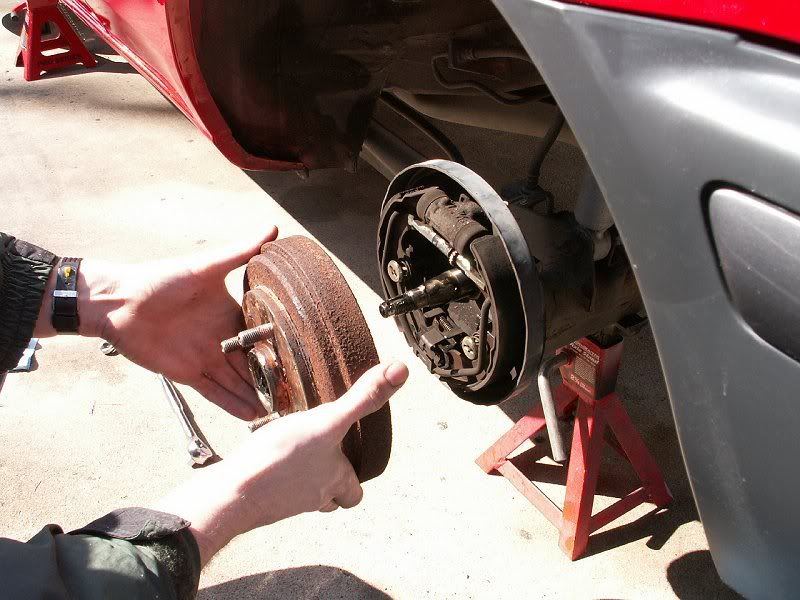 This is what you should be looking at after removing the drum.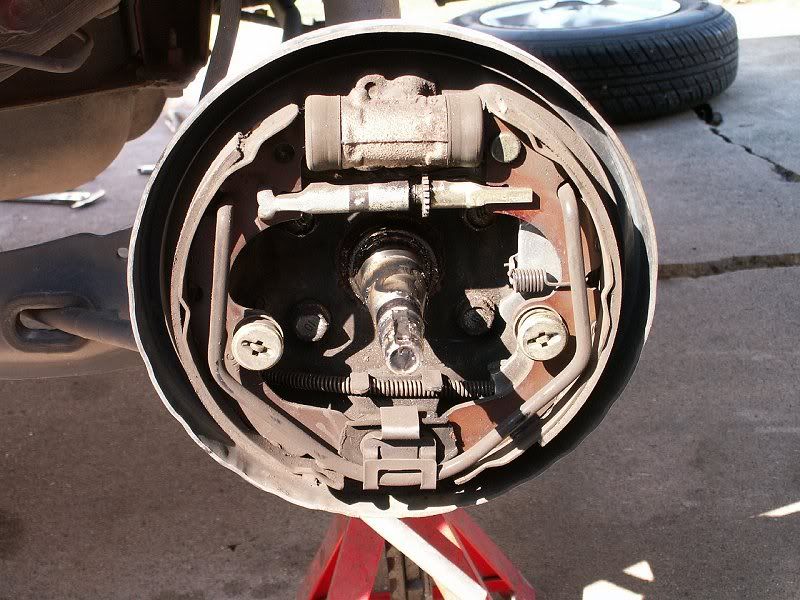 Remove the giant retractor spring by prying it off with a screwdriver or do like I did and use your hands. It's really not all that stiff. It's function is to retract the brake shoes when you let off the brake pedal.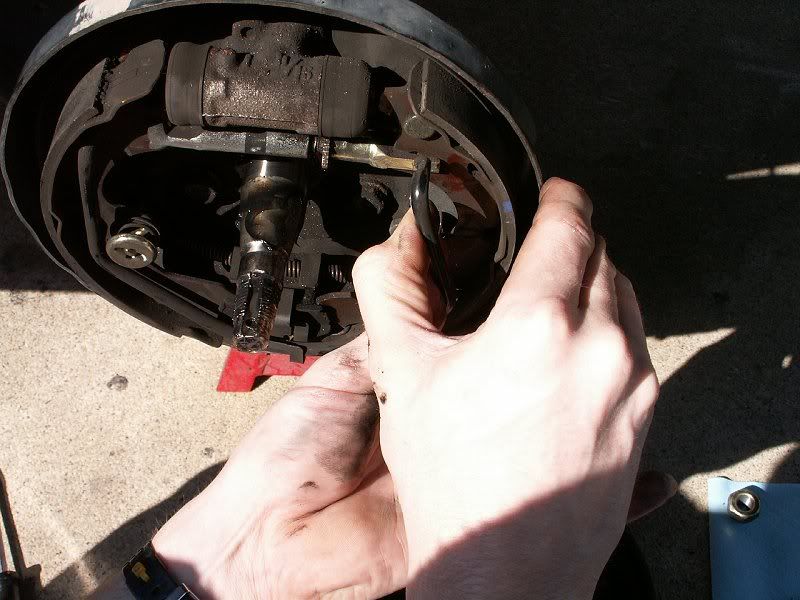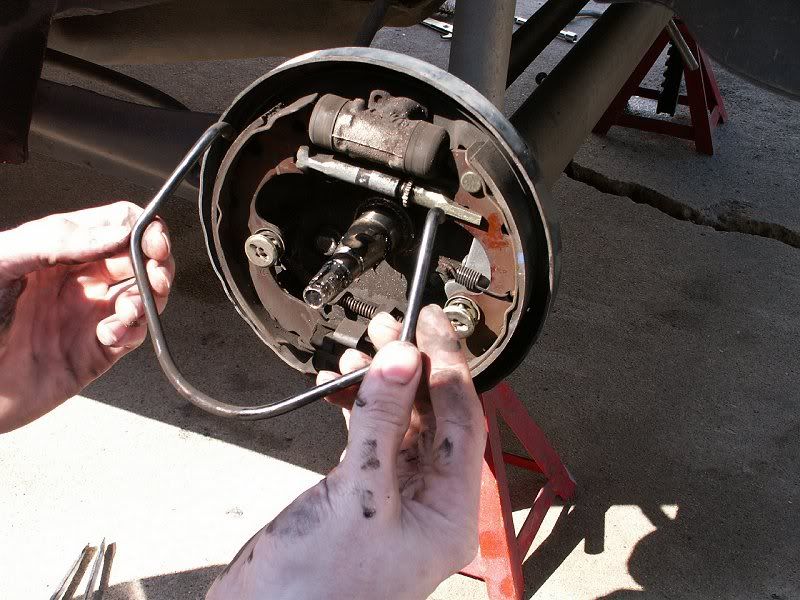 Next you need to remove the retaining pins. These hold the brake shoes in place. There's one in each shoe. Reach around back with one hand and hold the pin in place. Then with the other hand, push the front washer in and twist to release the washer. Now remove the pin, spring and both washers.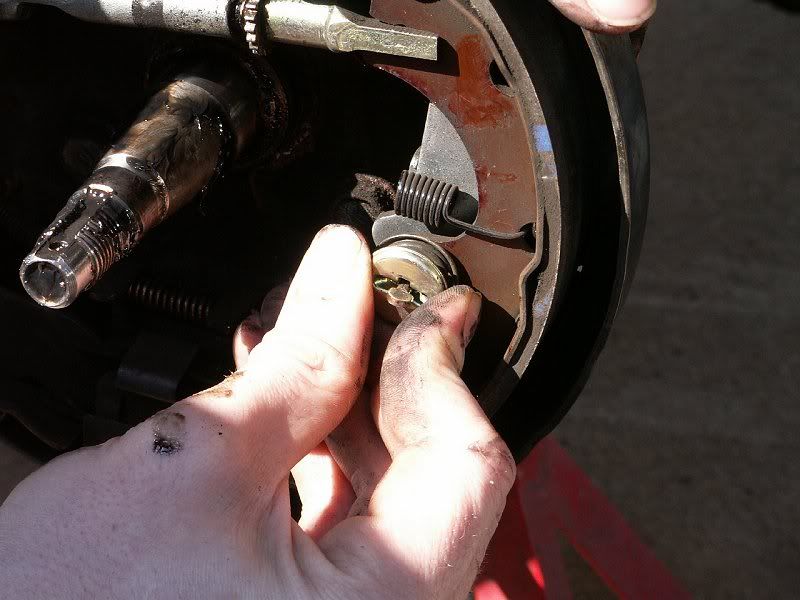 You should be able to remove the shoes one at a time.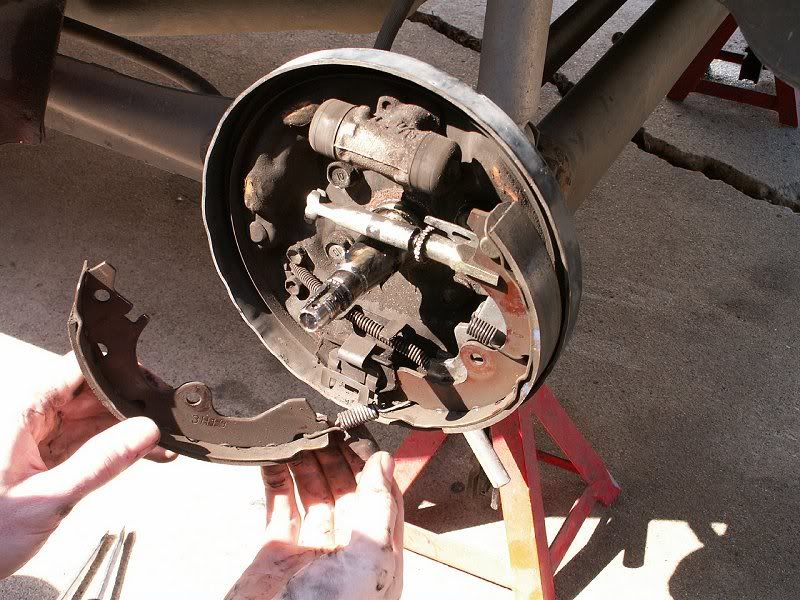 Remember not to lose the bottom spring that connects the two shoes.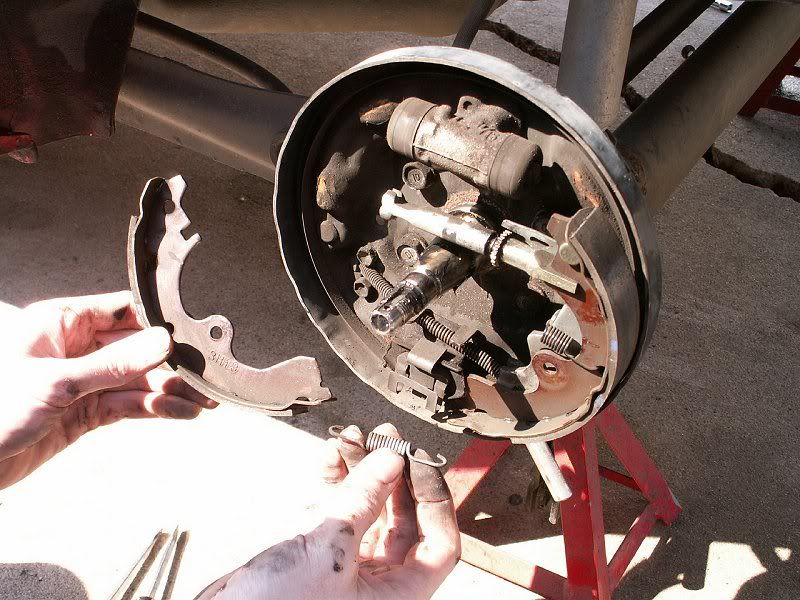 Now remove the e-brake cable. Just pull the spring back with your hand and slip the cable out of the bracket.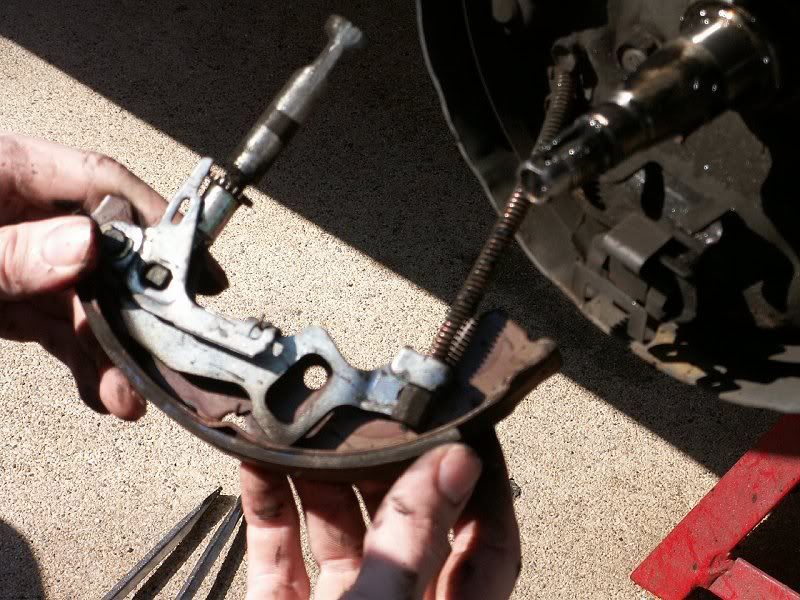 Release the e-brake cable from the backing plate by removing the two little bolts with a 10mm socket.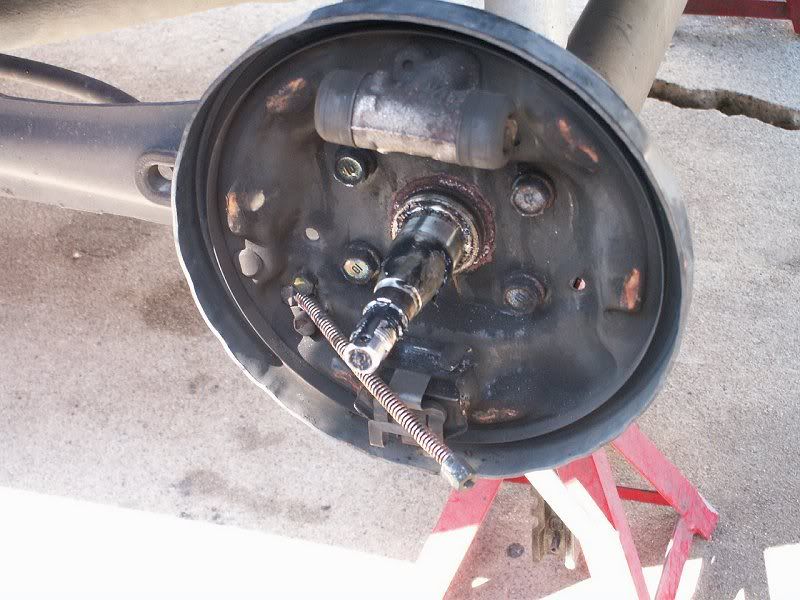 Now it's time to get under the car and unbolt the solid brake line from the axle. A standard open-end wrench will most likely strip the nut so use a linewrench. This is a special wrench that has more contact surface than an open ended wrench which will protect the nut and allow you to loosen even the most stubborn nut. It's like a box-ended wrench with a slot in it to slip over the pipe.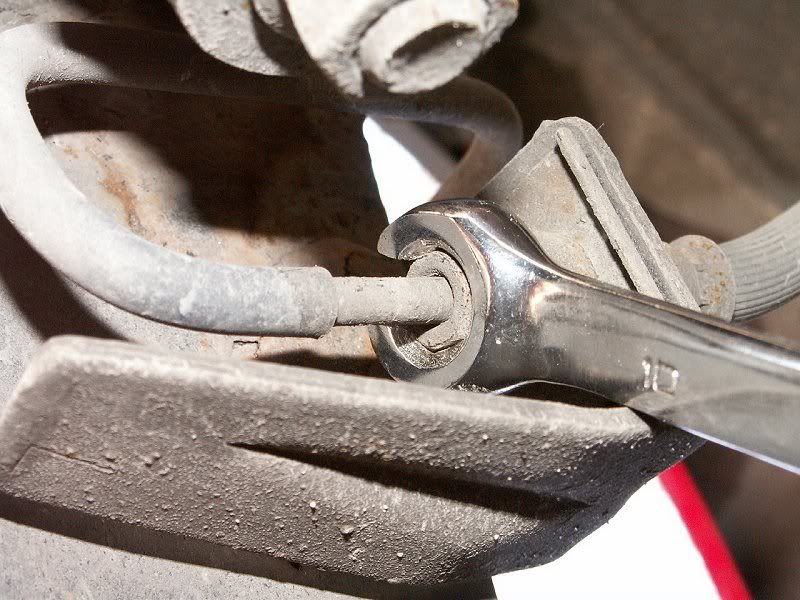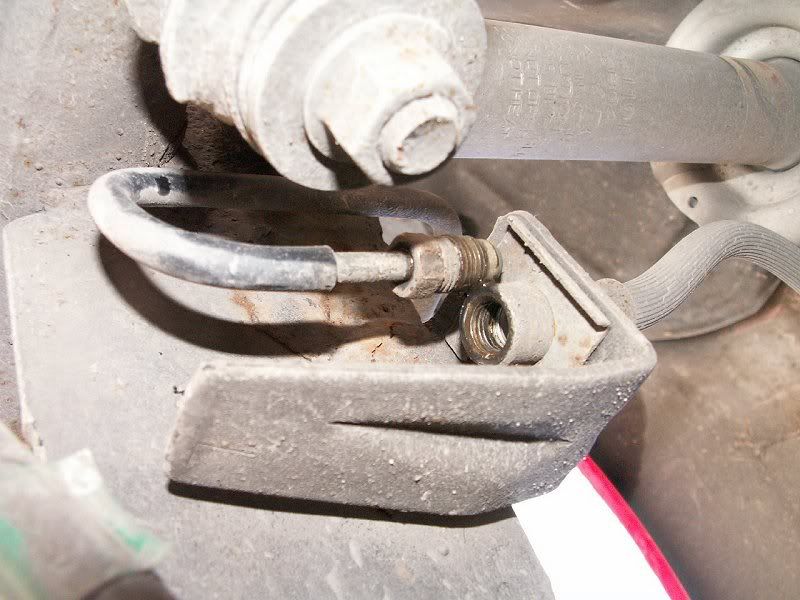 Now unbolt the backing plate from the axle by removing the 4 bolts with a 14mm socket.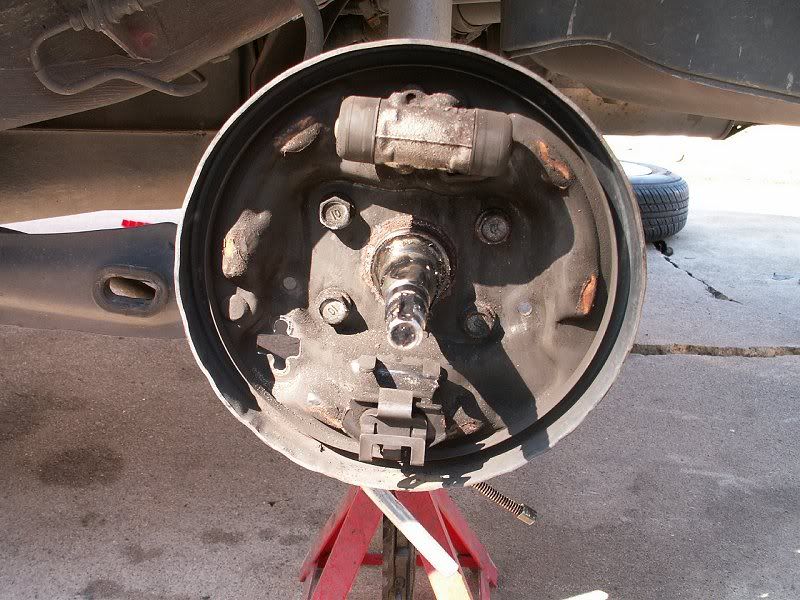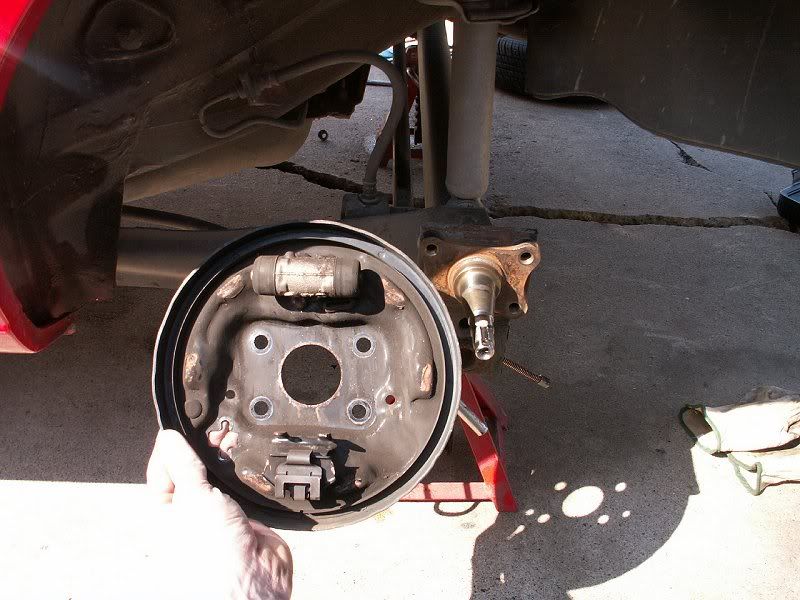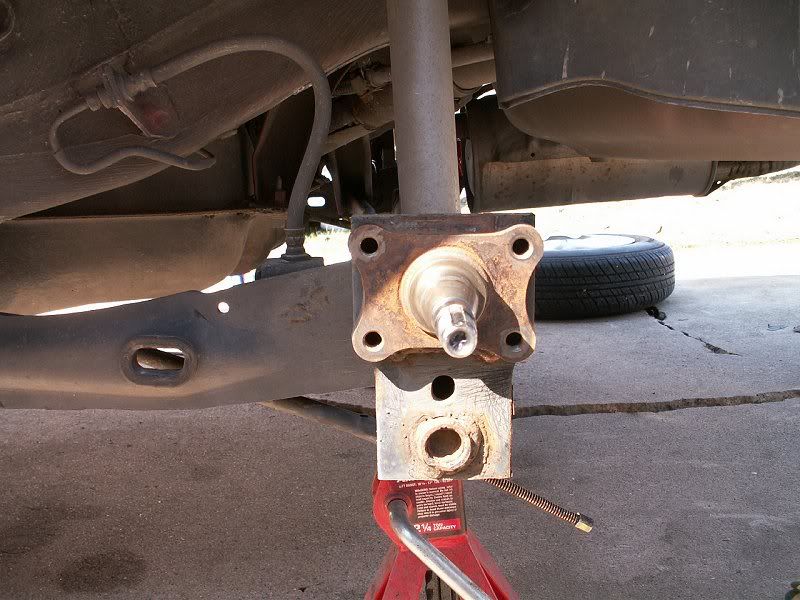 It's now time to prep the Starlet GT disc rotors. I know it's really rusty but I love it :D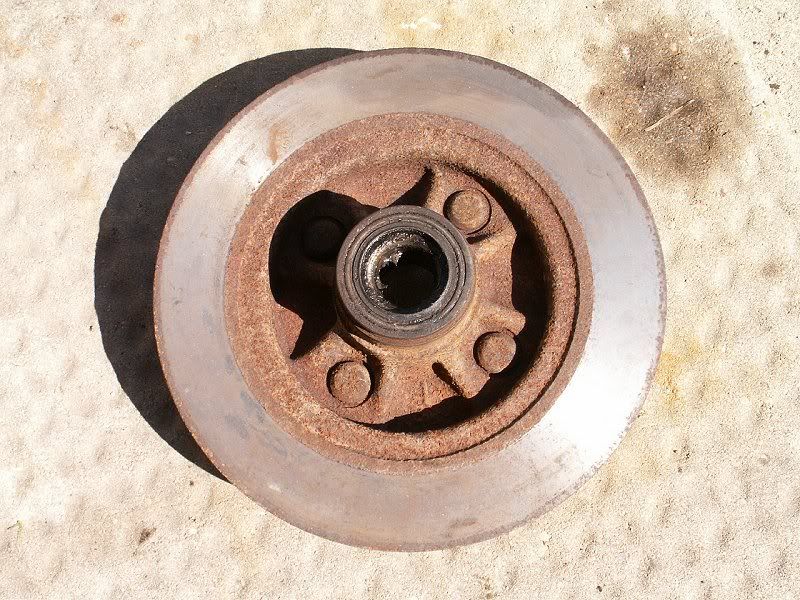 Remove the old inner bearing seal with this wicked seal puller.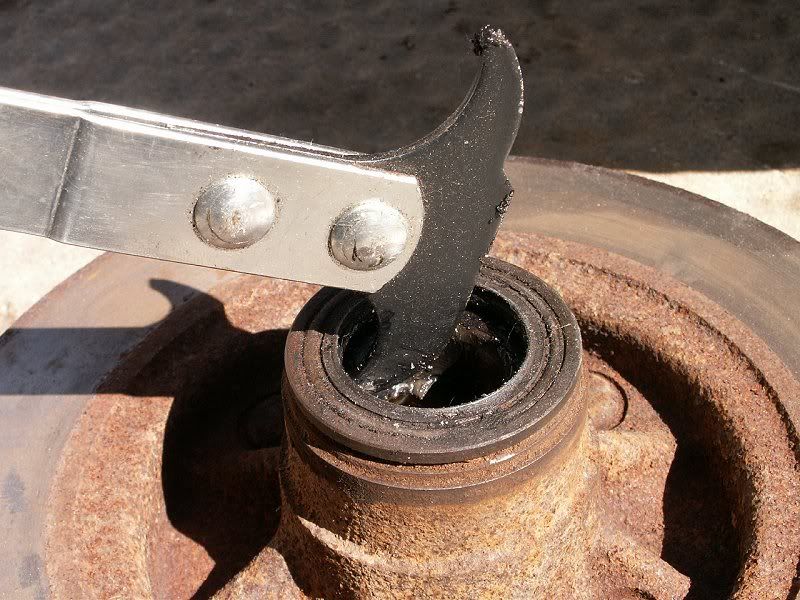 That seal puller looks like a weapon you say? Well I'd have to agree:mad: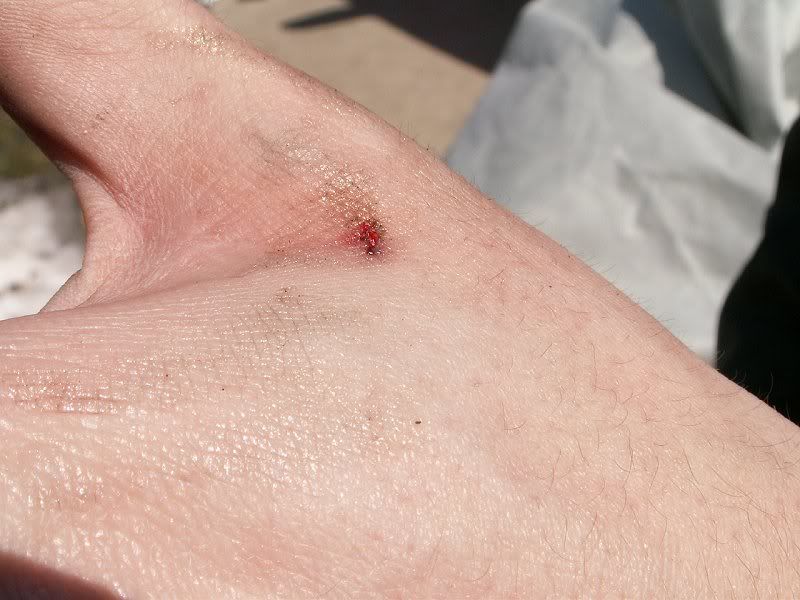 After pulling the old seal. The bearing comes right out.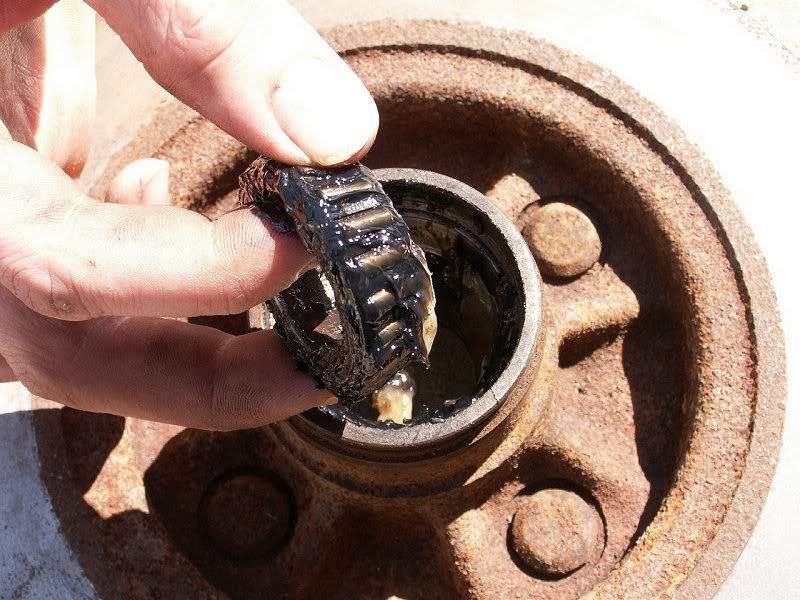 Let's hit the parts washer for some cleanup. You can tell I love this part....mmm....solvent -lol-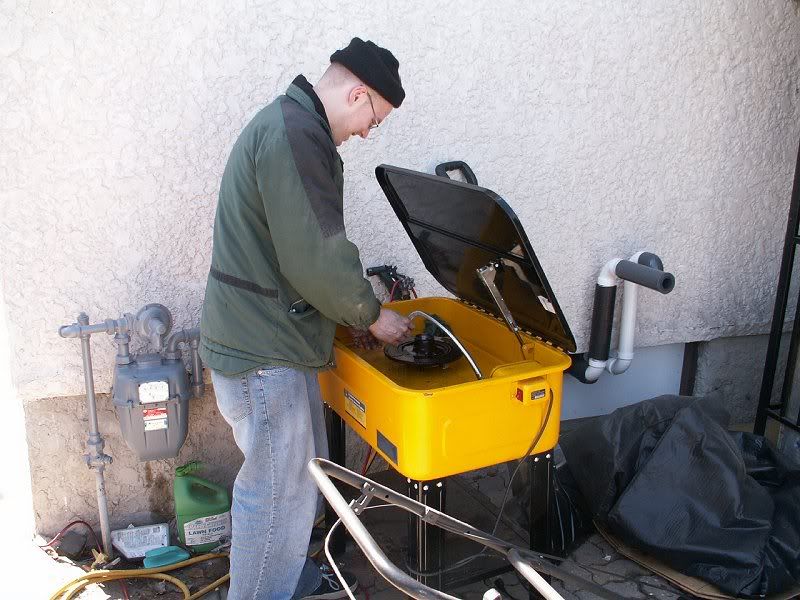 Clean the bearing out well and then blow it out with compressed air. You want to get ALL the old grease out.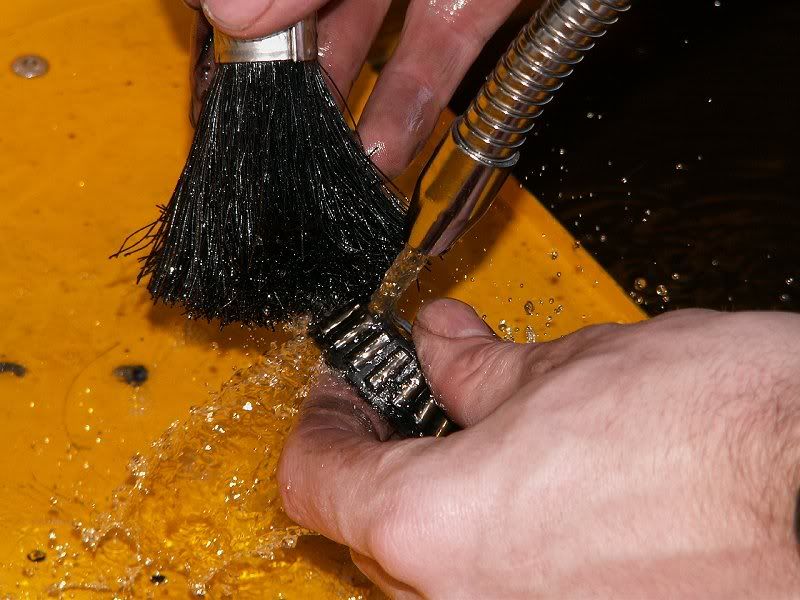 Do the same for the rotor.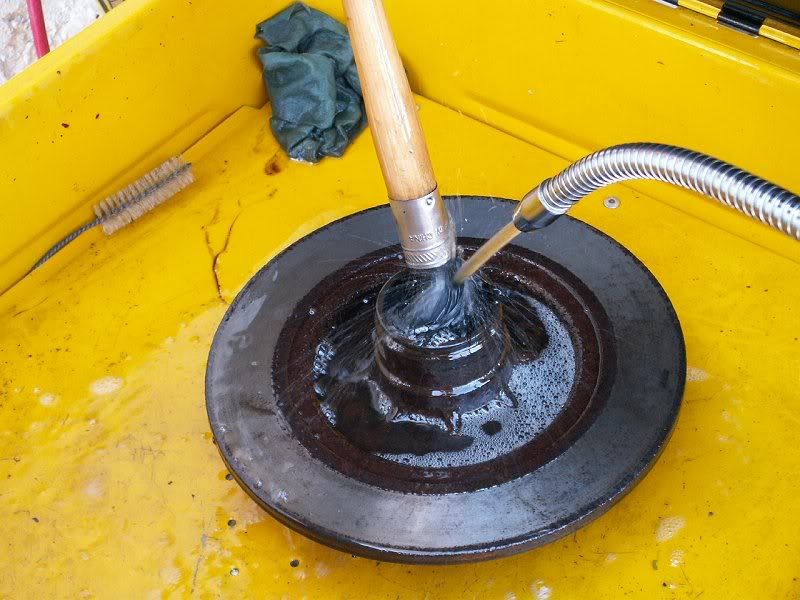 So fresh and so clean-lean-lean...sorry....anyways - back at the ranch...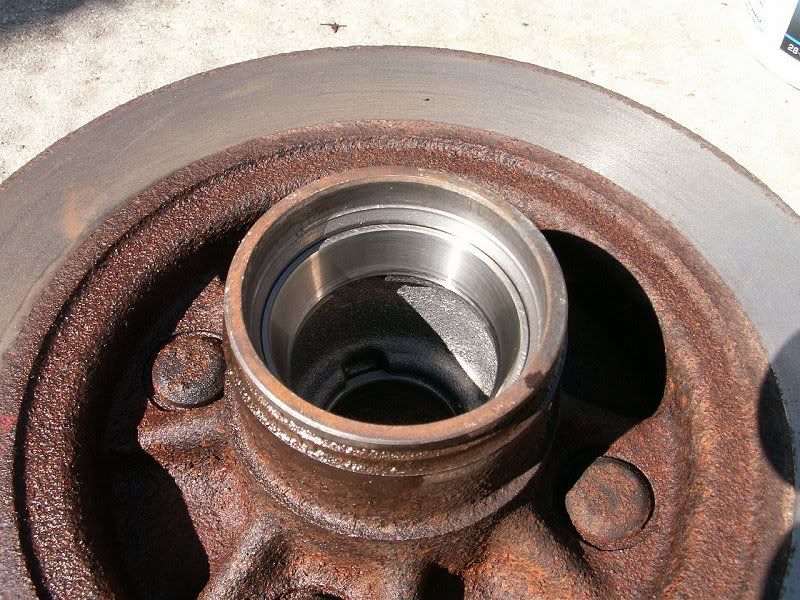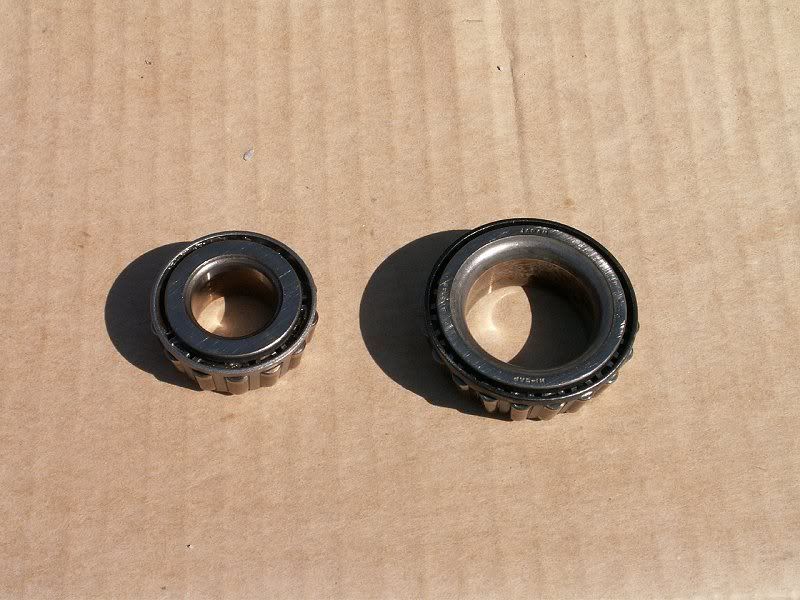 Repack the bearings with wheel bearing grease. I do it manually but you can use a bearing packer. You can use either the Tercel or Starlet bearings. But I prefer to use the Starlet bearings since the race is installed in the rotor already. Make sure to put some grease in the cavity of the rotor too to make sure the bearings will always have grease.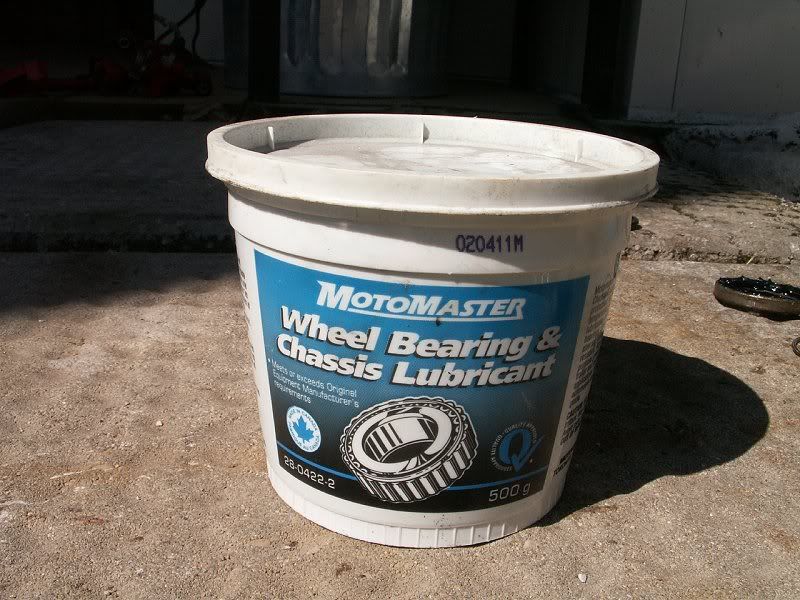 Now it's time to re-install a new Genuine Toyota Japanese built inner bearing seal. Again the USDM/CDM 91-99 Tercel seals fit the Starlet GT rotors.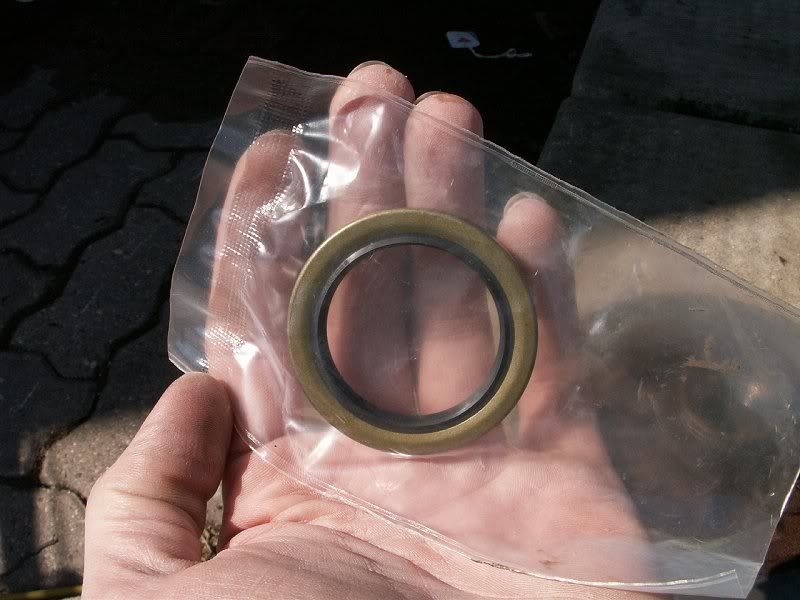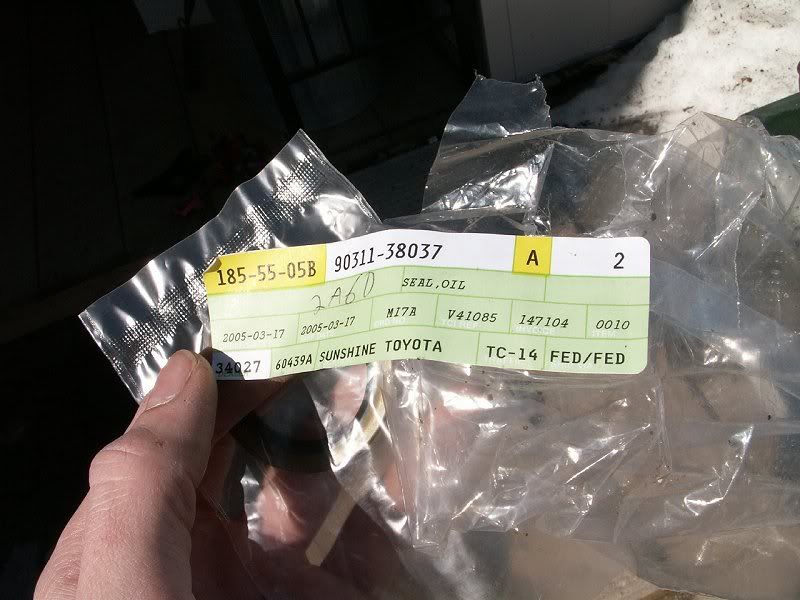 I didn't get a pic of the seal driver I used so here's what it looks like on top of the old drums. Use it to pound the new seal in nice and straight. Apply some wheel grease to inside of the seal to protect it later during sintallation.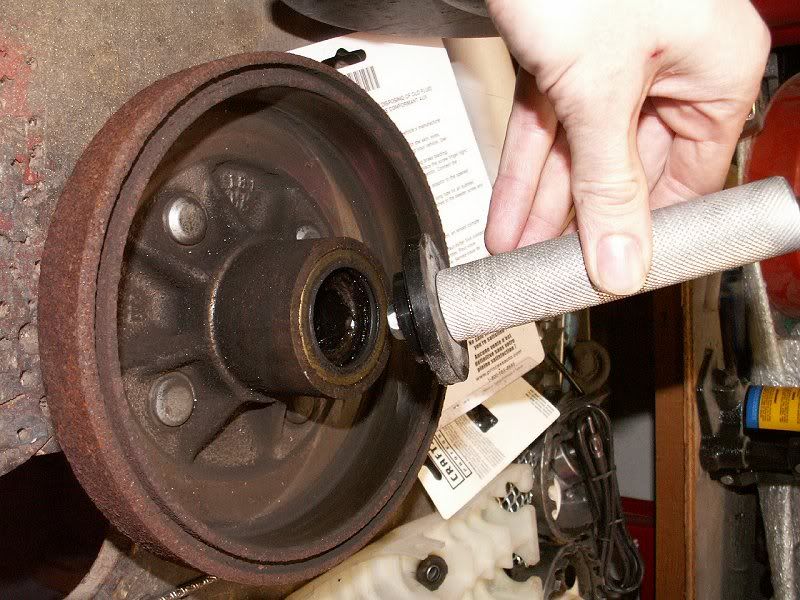 Now that the rotors are preped it's time to go back to the axle. Clean off the flat mating surface with a wire brush and sand paper. Then cover it with anti-cease just in case you ever need to remove it in the future.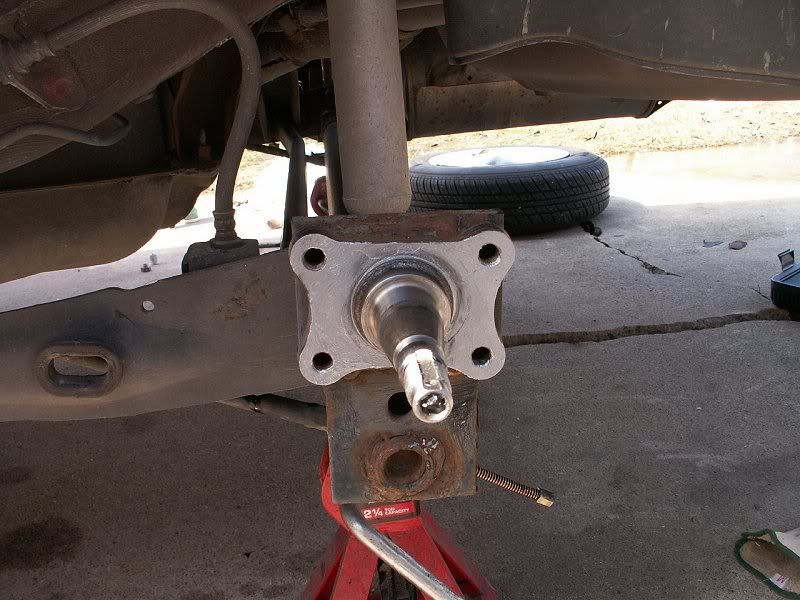 Bolt on the new backing plate with the longer bolts from the starlet GT setup. The Tercel bolts are too short.




Coat the spindel with some more axle/wheel grease to protect the seal during installation.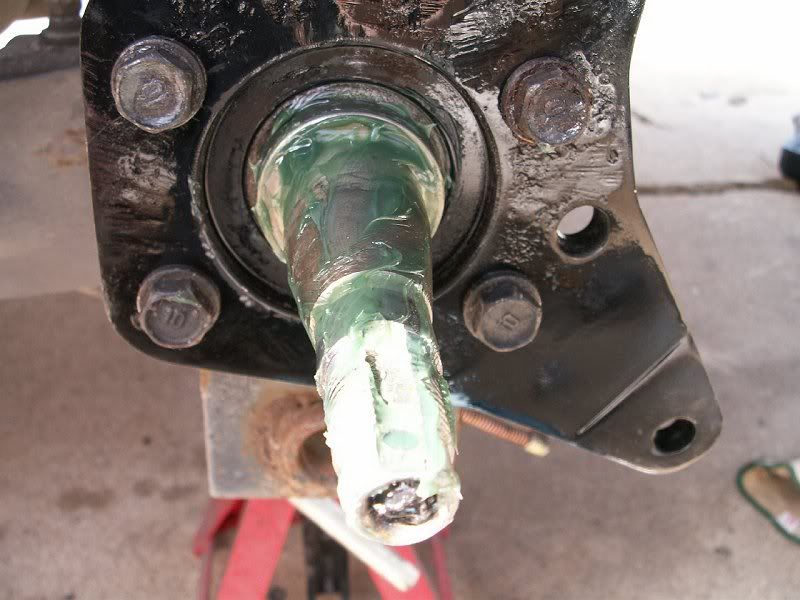 Slide the rotor onto the spindel and re-install the newly re-packed outter bearing, washer, nut, nut retainer, cotter pin, and dust cap. All those parts can be used from either your Tercel or the Starlet. They are all interchangable.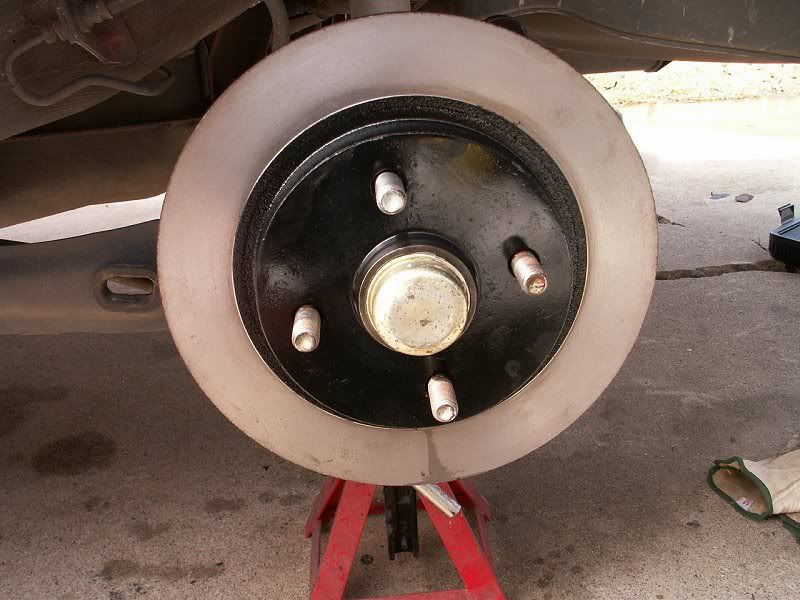 Bolt the caliper bracket to the backing plate. 12mm wrench. Now's also a good time to clean the rotors off with some aerosol brake cleaner to get all the grease and solvent off before installing new pads.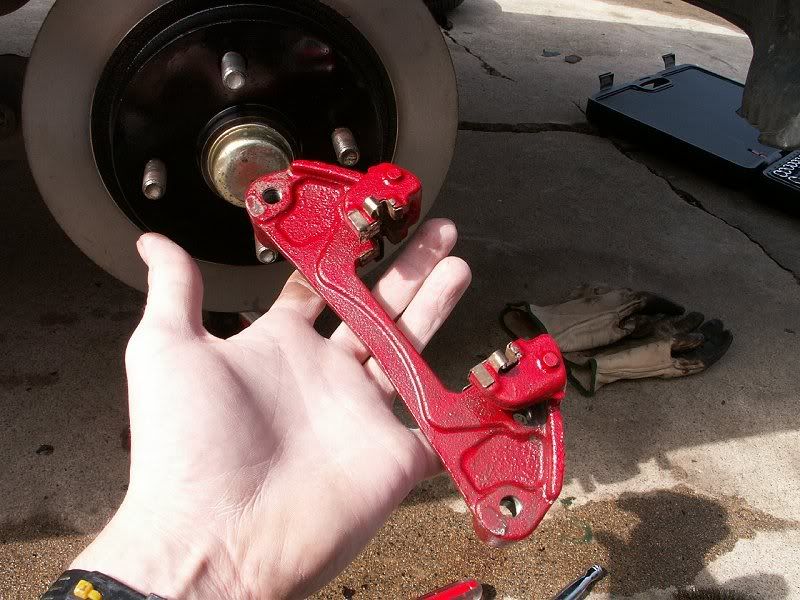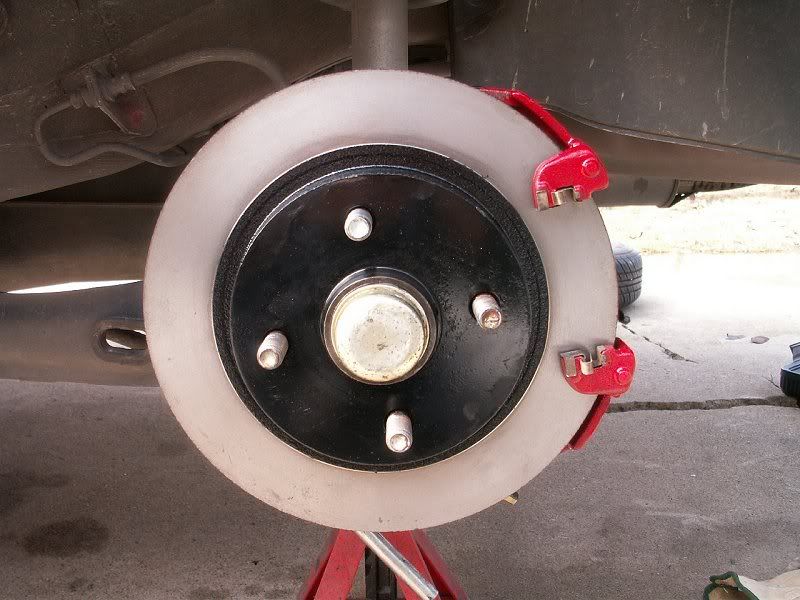 Open up one of your boxes of brand new Genuine Toyota pads. -sly-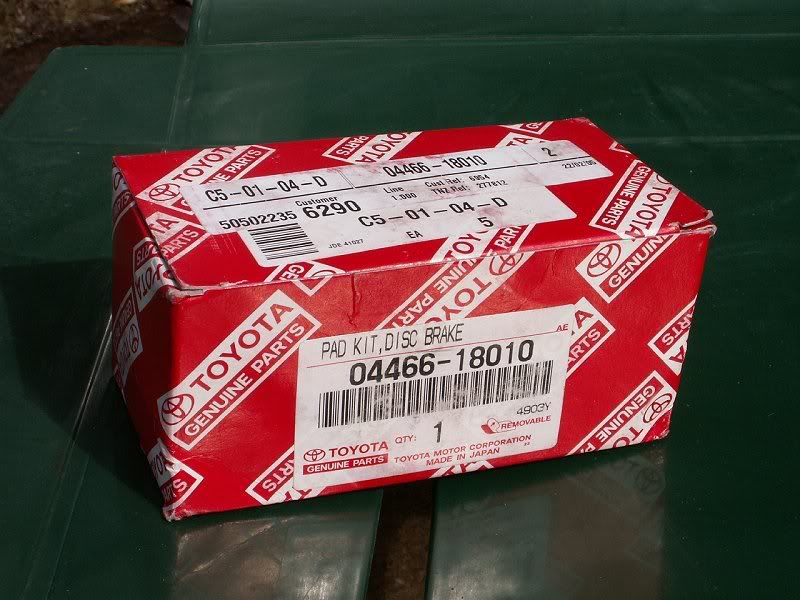 Install the pad shims. Again..rusty I know.-love-




Use some anti-squeek and apply it to the contact patch of the shims.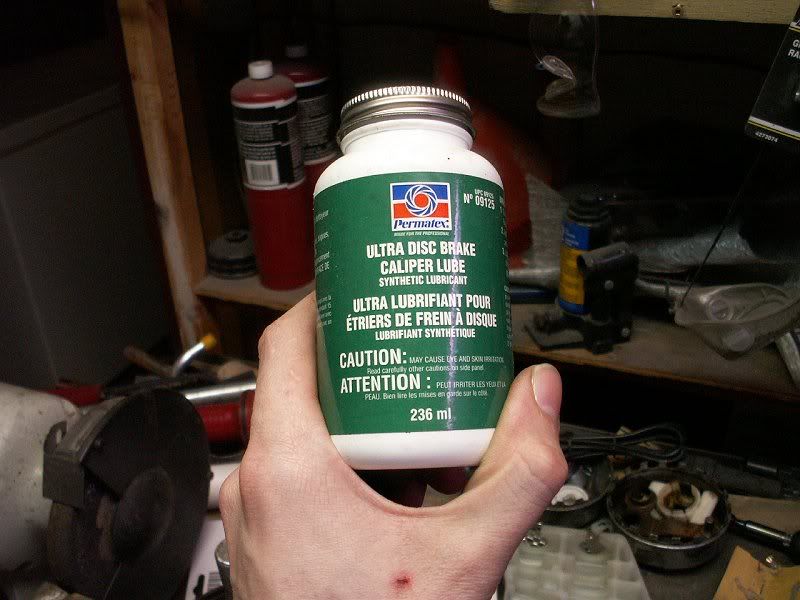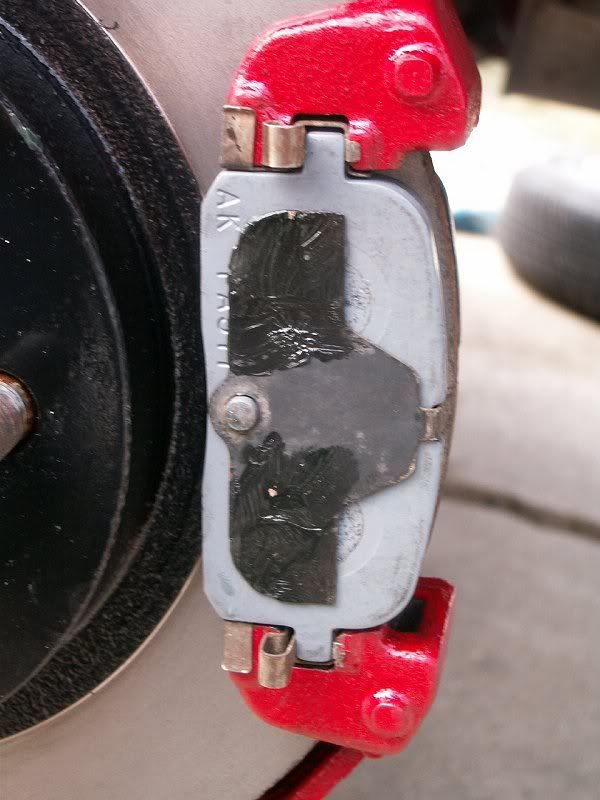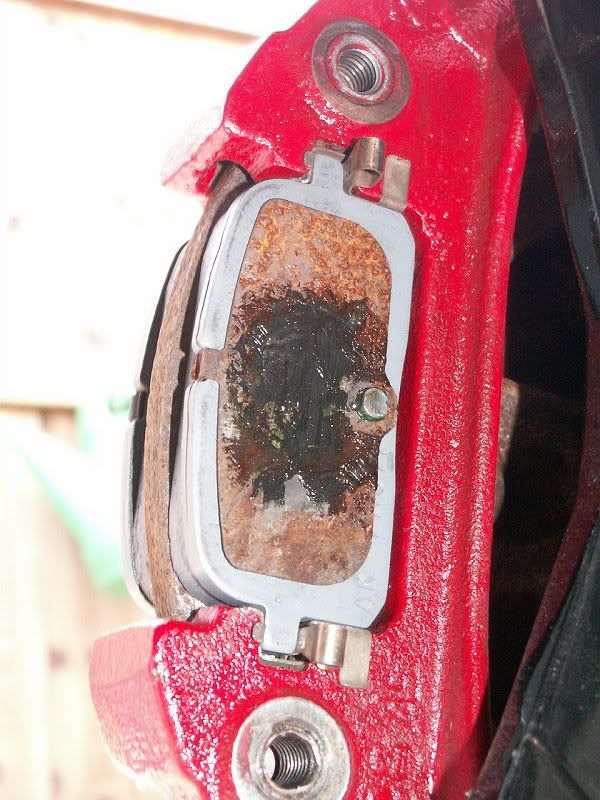 Time to prep the caliper. I had already rebuilt these but I had a couple of pieces left. Copper washers for the flexible brake hose.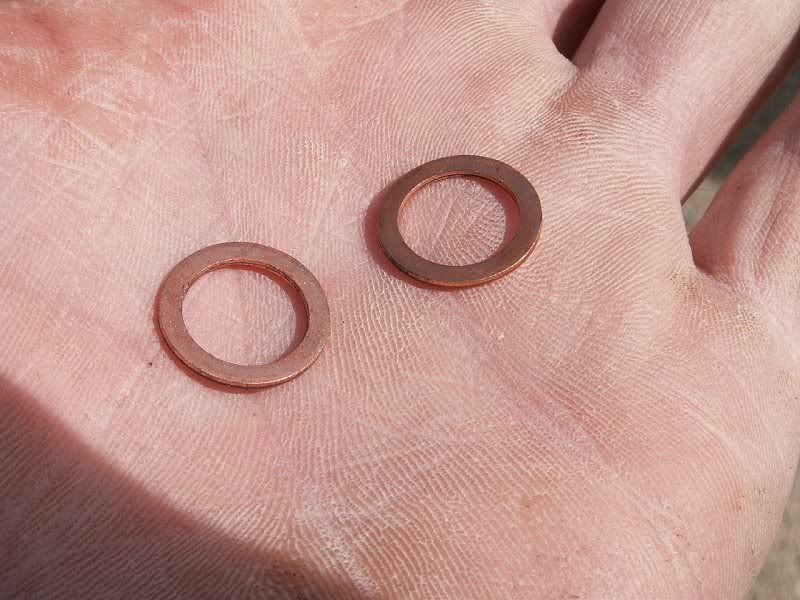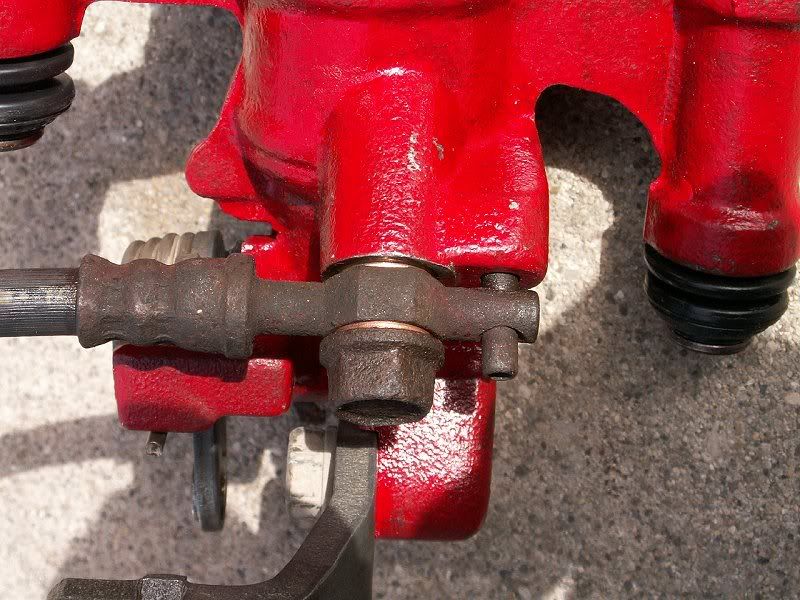 Make sure to retract and rotate the piston into this position before bolting the caliper to the bracket. The little bumps/tabs on the brake pads have to fit into that slot in the piston to keep it from rotating. So make sure it's installed properly.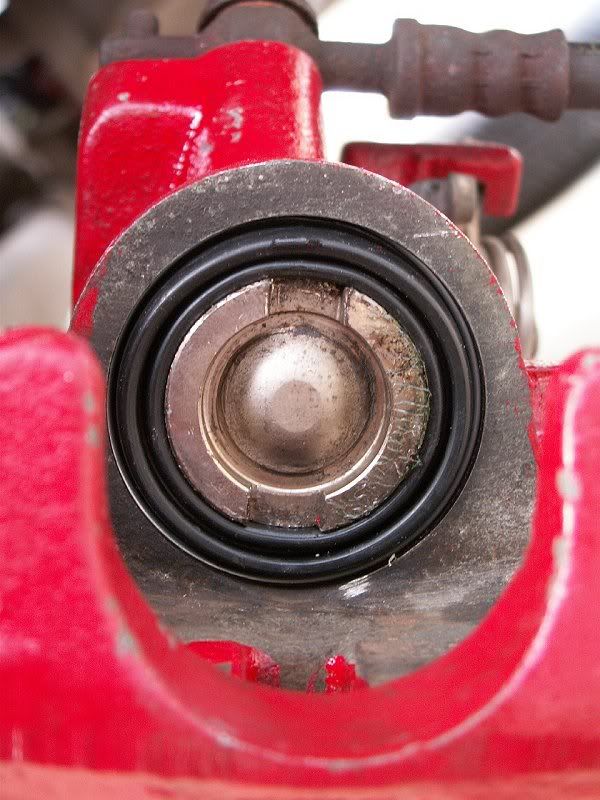 Now snap the other end of the hose in place on the bracket with the C-pin.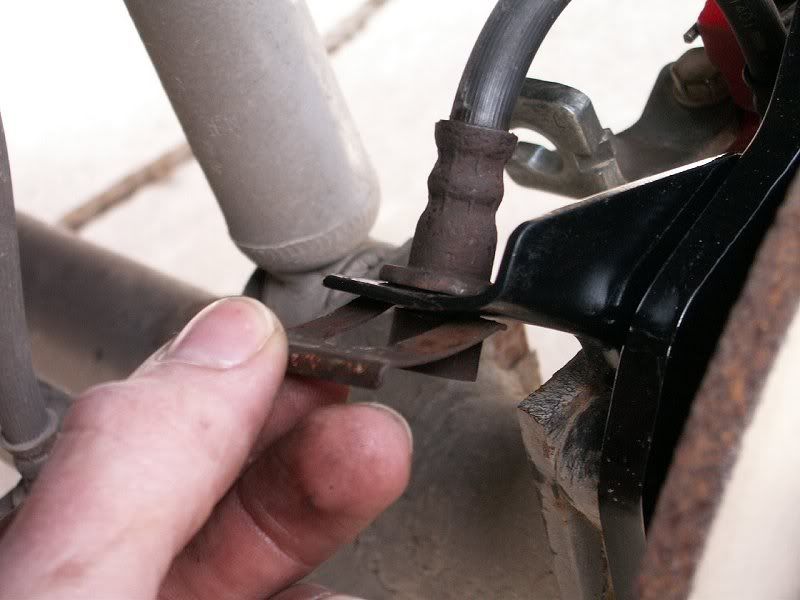 Attach the hard line from the Starlet setup. The Tercel line doesn't fit. You may be able to bend it to fit but if you have the Starlet lines, use them. IF you don't want to wreck your Tercel setup, then go out and buy some hard lines with connectors and bend it to suit your needs. They cost less than $10 each.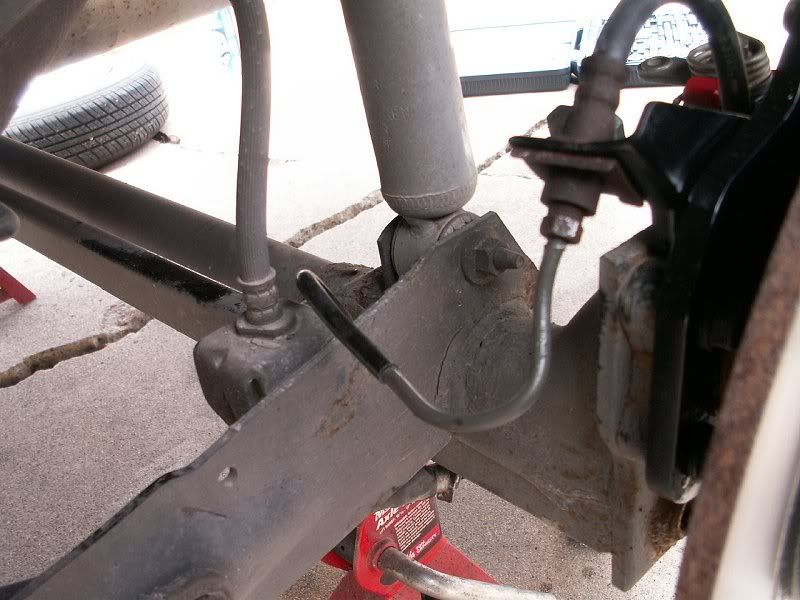 Sh!t that's sexy.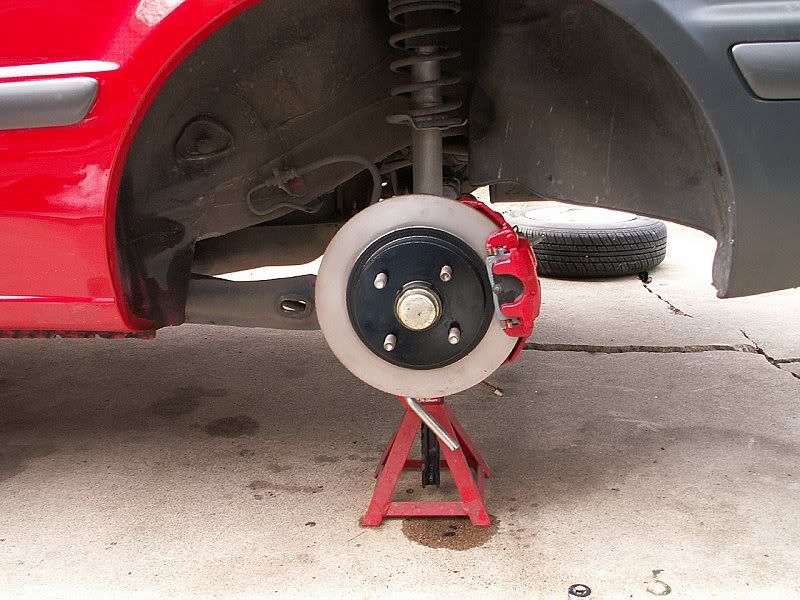 Ok when you're done admiring your own work it's time to get messy again. Time to hook up the Starlet GT e-brake cables. I won't sugar coat it. This part suxorz.-blah-


You have to remove the aluminum exhaust heat shield to get at the e-brake cables.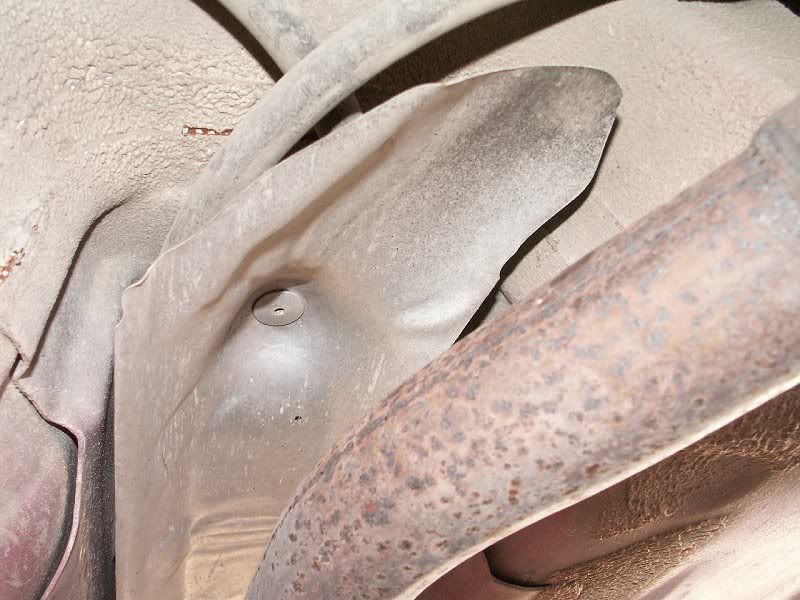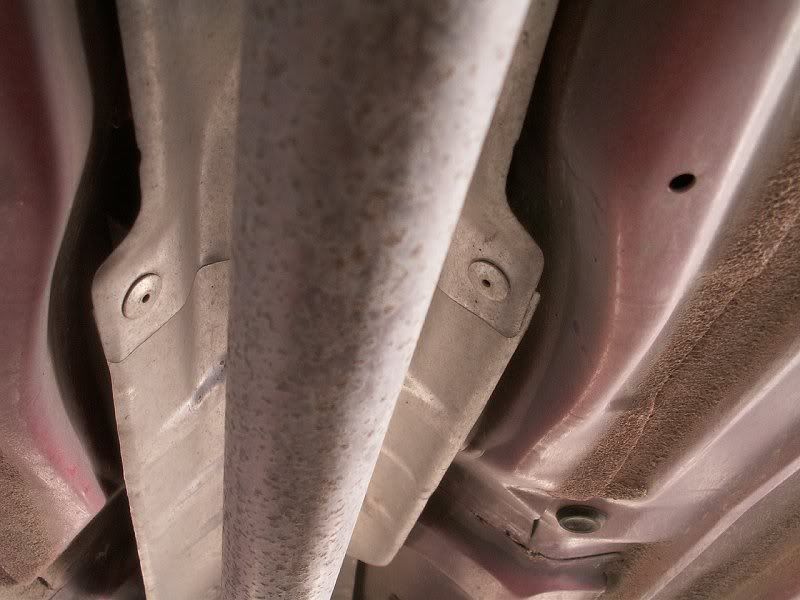 You're gonna have to make some room to work in there so unhook the rear muffler hanger and slide the whole exhaust off to either side.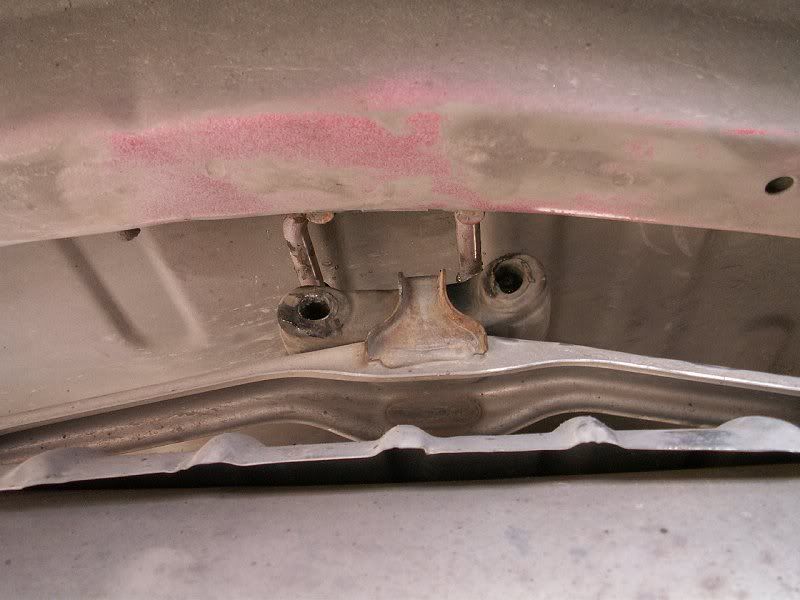 Then using a large drilbit to drill out the 3 aluminum rivets that hold the shield in place. Don't worry. You can re-install it later.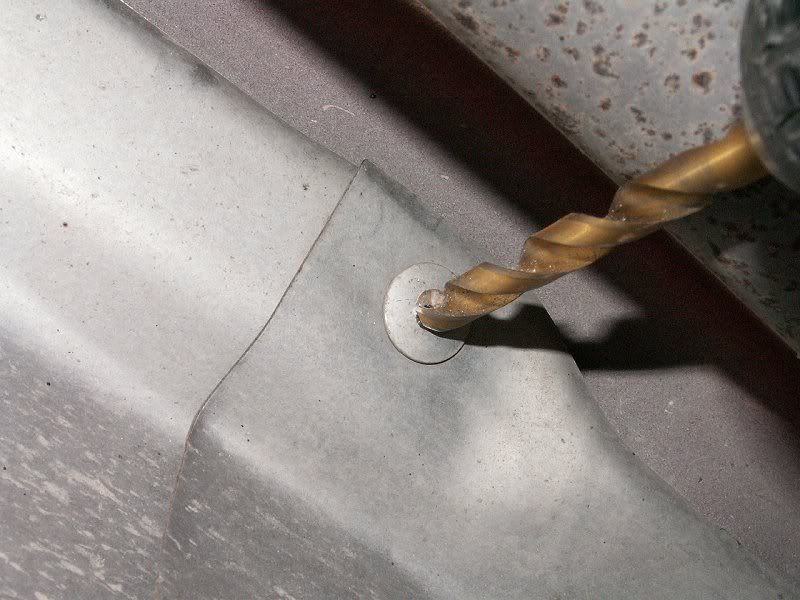 Now get in the car and take your 10mm socket, extenssion and ratchet with you. Loosen the adjustor nut as far as you can without backing it off the bolt all together.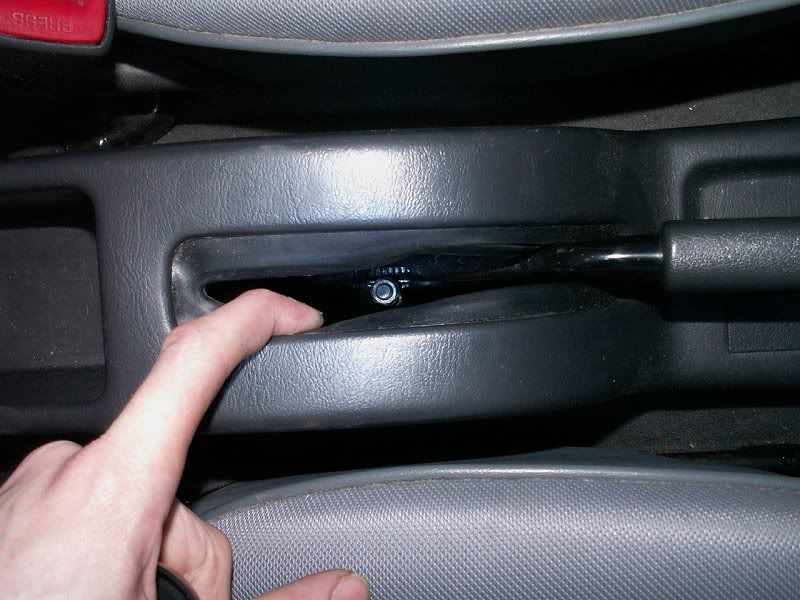 Get back under the car and remove the cables with a 10mm socket.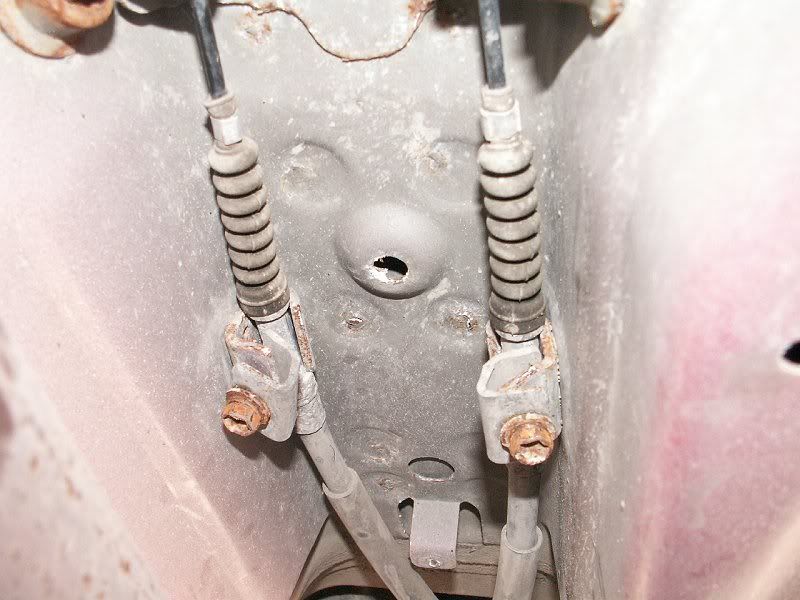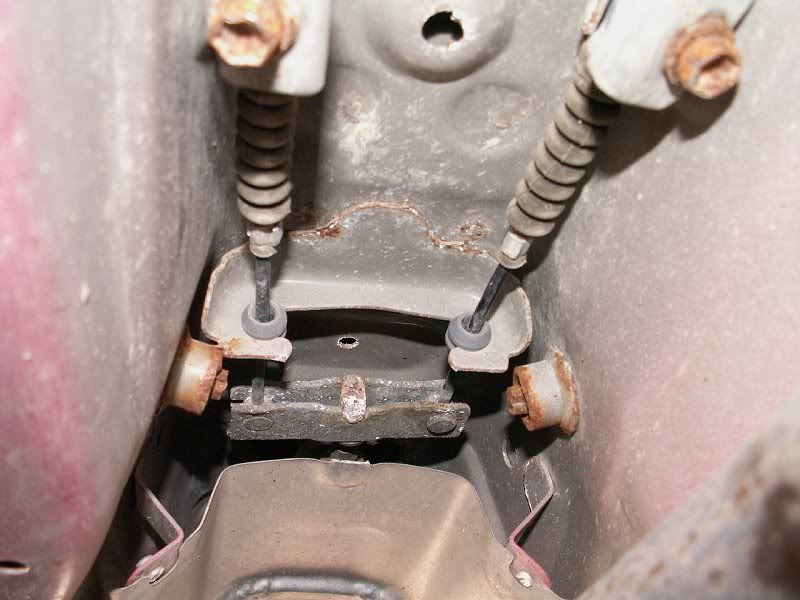 Now you'll run into a problem. At least I did on my 98 Tercel.

Starlet cable on the left - Tercel cable on the right.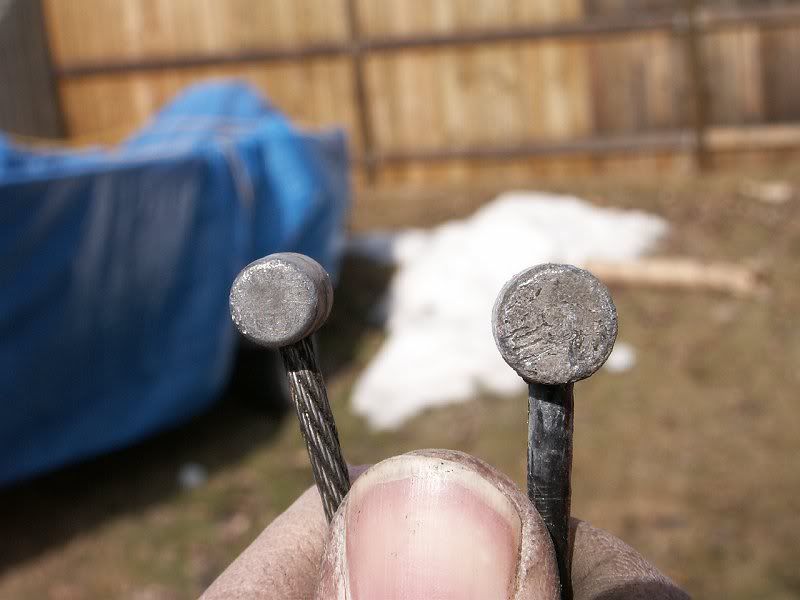 I had to fab up some sleeves out of a piece of 10mm conduit to solve the problem.





MINT!!!!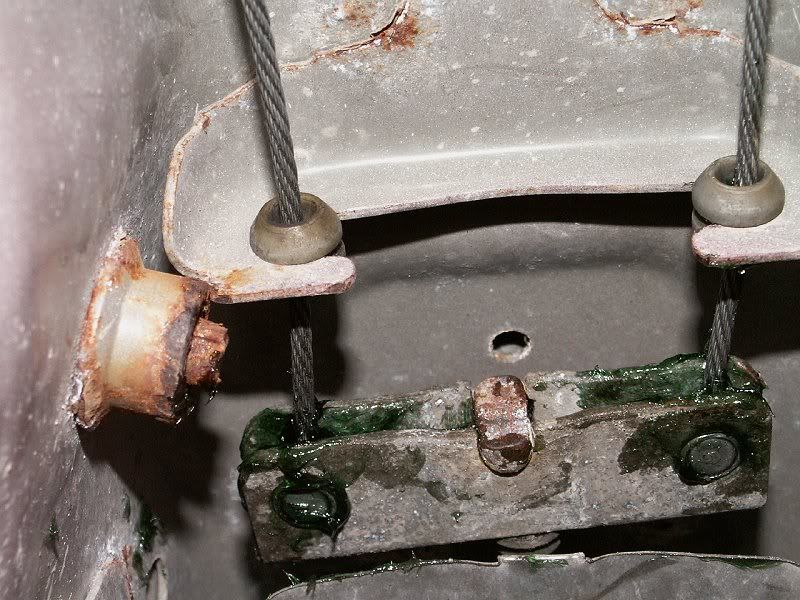 Unfortunatly the Starlet is a little shorter than a Tercel so it's cables too are a little shorter than the Tercel's. So you can only use one mounting point on each side.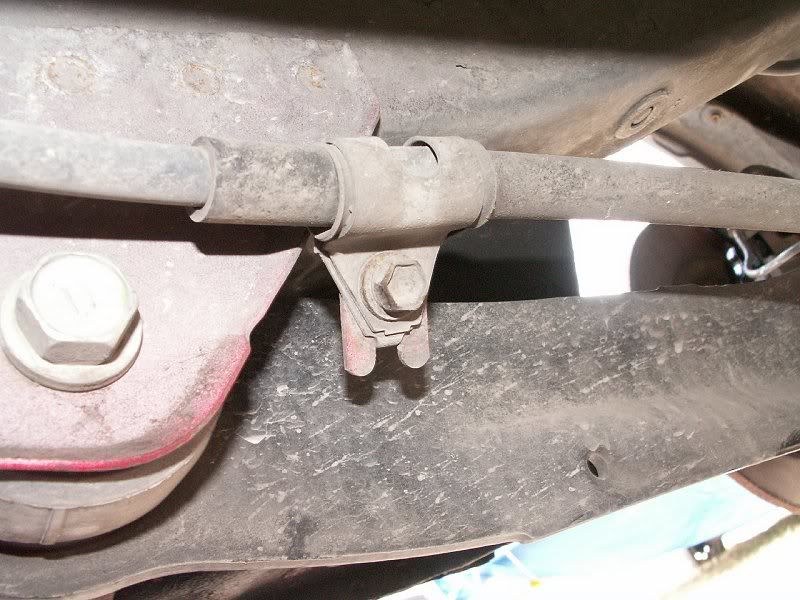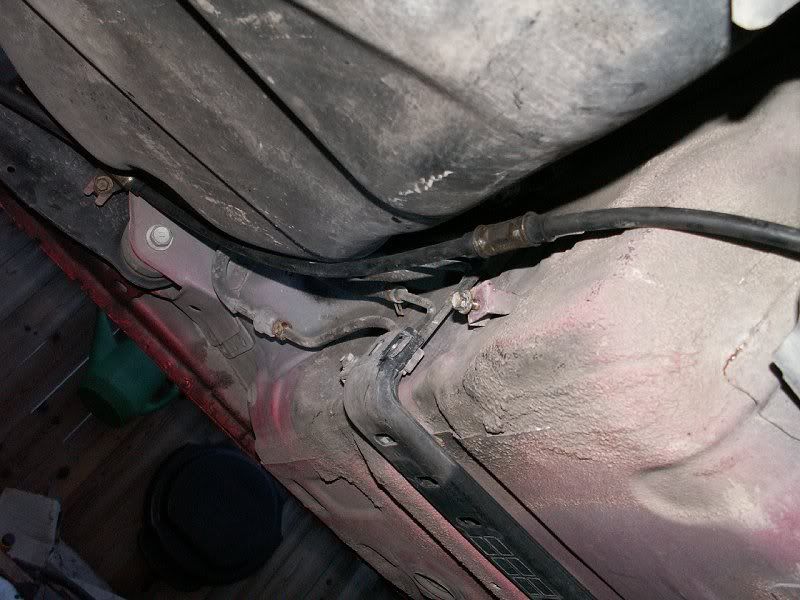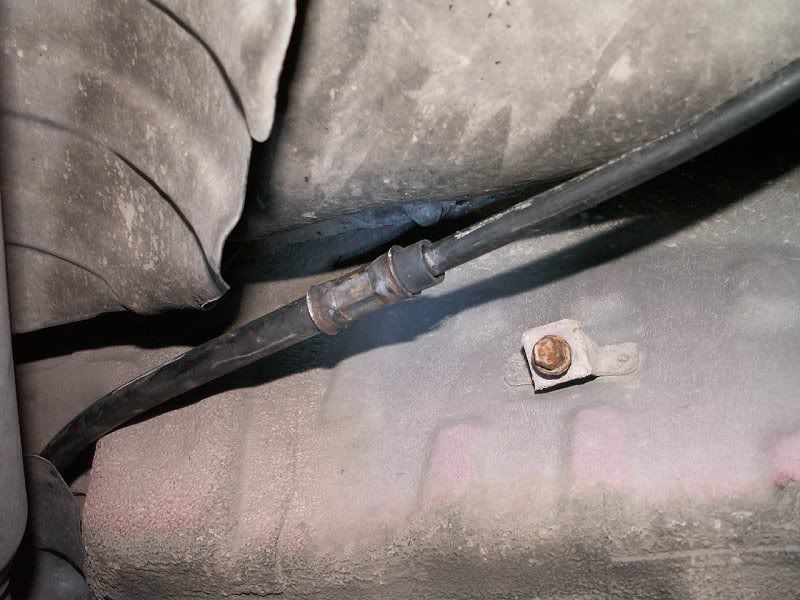 Route the cable through the stock location on the axle. You will have to remove the grommet and then pass the cable through the hole. Reinstall the grommet over the cable and squeeze it back into the hole.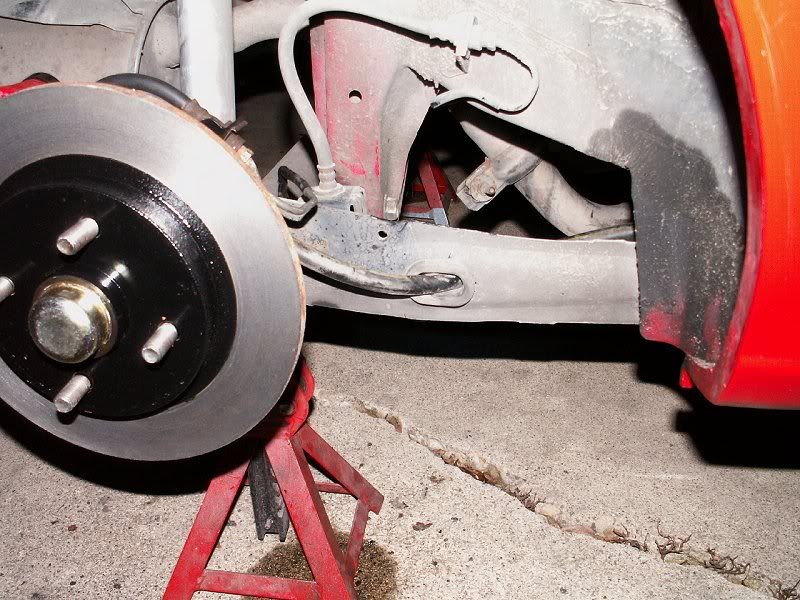 I didn't get any pins to attach the cables to the rear calipers so I had to make some. I used some TOYOTA bolts that I had lying around. I cut them to length and drilled them for a cotter pin.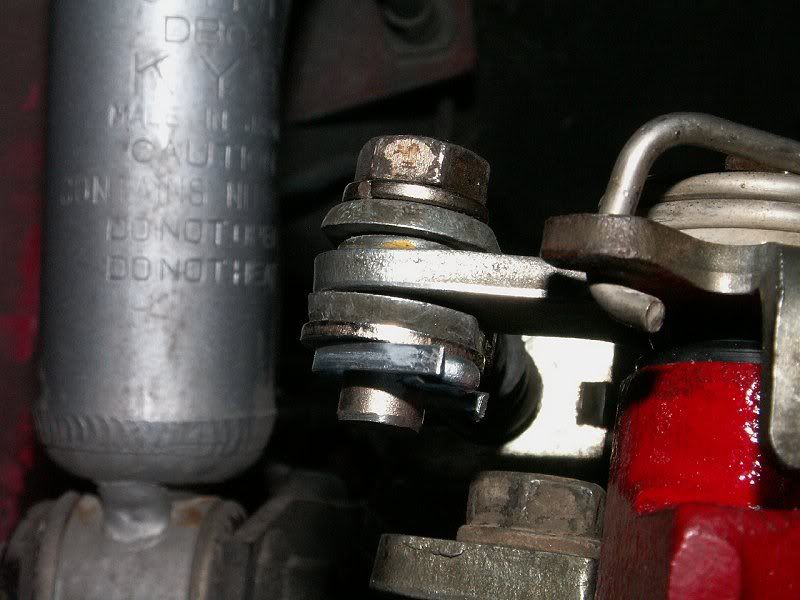 Now that you're done with the cables you can re-install the heat shields using some standard aluminum pop-rivets.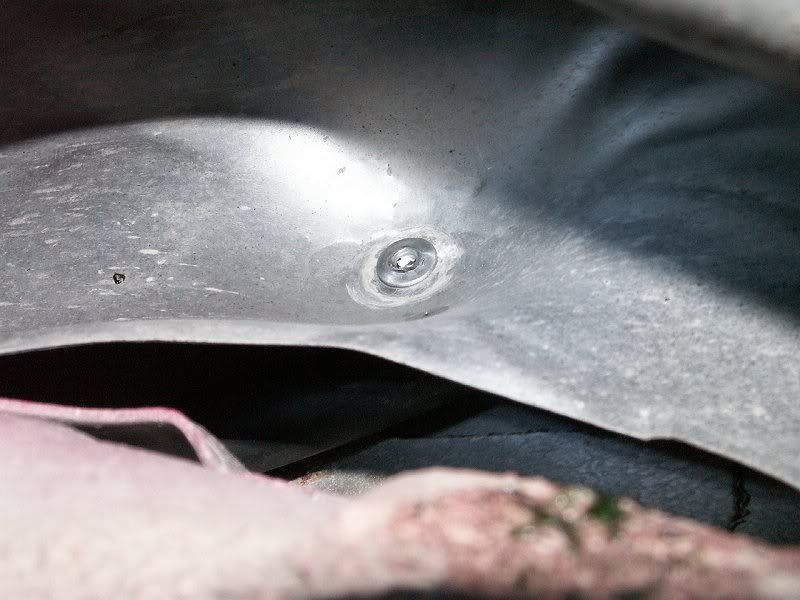 Go back into the cab and tighten that e-brake tentioner nut.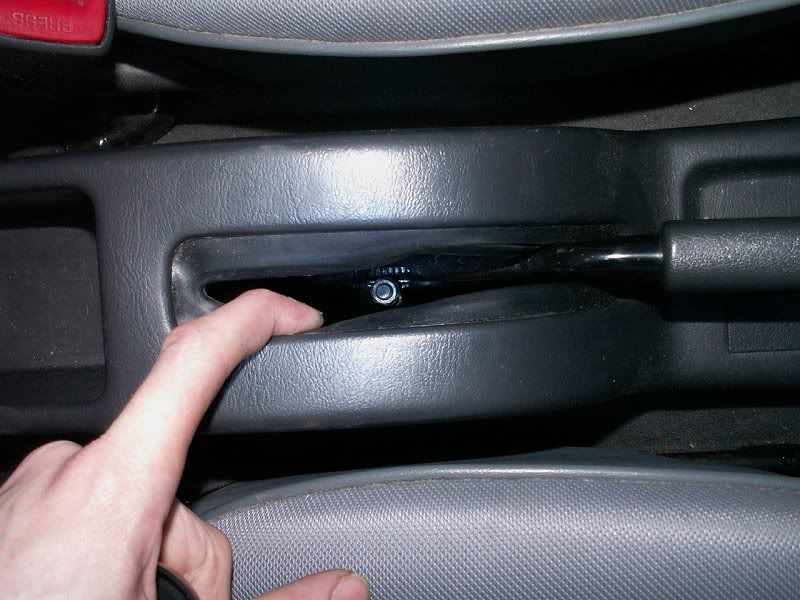 That's it. You're done. Now just bleed the brakes and top off the brake fluid. Put the wheels back on and you're ready for a test run. BTW this setup will fit with 13" stock wheels.


Good luck guys -ccolguy-

[Edited on 5-4-2005 by Qballcious]
---
ranterc

-

4-4-2005 at 07:50 PM



-dumass-

nice job -coolguy-
---
ranterc

-

4-4-2005 at 08:02 PM



oh , almost forgot to ask how was your test drive ?how noticalbe was the difference in braking power?
---
Qballcious

-

4-4-2005 at 08:04 PM





It's not insure for road use right now. I will take it on the road test in about a week after I get back from North Carolina.
---
eviilboy

-

4-4-2005 at 08:19 PM



I want pictures of the sexiness with everything put back on.
---
ugabuga

-

4-4-2005 at 09:31 PM



qball remember that the pads have a breakin period of a couple of hundred miles during which you shouldnt get them white hot :)
---
Walkman5410

-

4-4-2005 at 10:34 PM



Dang dude you got lucky like 4 times with that customize stuff you do....and that stuff you have laying around..im jealious lol


nice setup dude
---
ShowCarTercel

-

5-4-2005 at 07:14 PM



Wow, you made it look so easy. Awesome DIY QBall.

Damn, I just had my rear brakes machined last October. Guess I will just have to drive with the e-brake on for a while to speed up the wearing out so I can replace them.-banana- I was rear disc brakes now.
---
djsilent

-

5-4-2005 at 07:38 PM



VERY nice writeup, I just have a couple questions.

1. Is there no need for the starlet rear axle? You can put it on the stock tercel axle? That wouls save a bunch of money and time...

2. Why did you switch the ebrake cables? Why won't the tercel ones work? Instead of fabbing up something to make the starlet cables work, couldn't you shave the other end of the tercel one or modify it to fit the starlet calipers?

Once again, great writeup. I just want to clarify a couple things before I start acquiring parts.
---
Qballcious

-

5-4-2005 at 07:57 PM





great questions.

A#1 - You can add the starlet disc setup to any 87+ Tercel or 92+ Paseo rear axle. No need for the starlet axle unless you want a shorter axle and better chamber. Then get the Starlet axle.

A#2 - The Tercel cable doesn't fit the calipers. The calipers require a looped end. You could modify the Tercel cable to work by machining the aluminum stop to fit the acliper. Then weld a u-chacle to the end in order to make it fit the caliper. I already bought the Starlet cables and naivly assumed they'd fit because nobody had ever mentioned and incompatibility before.
---
Qballcious

-

5-4-2005 at 08:34 PM





ask and ye shall recieve -banana-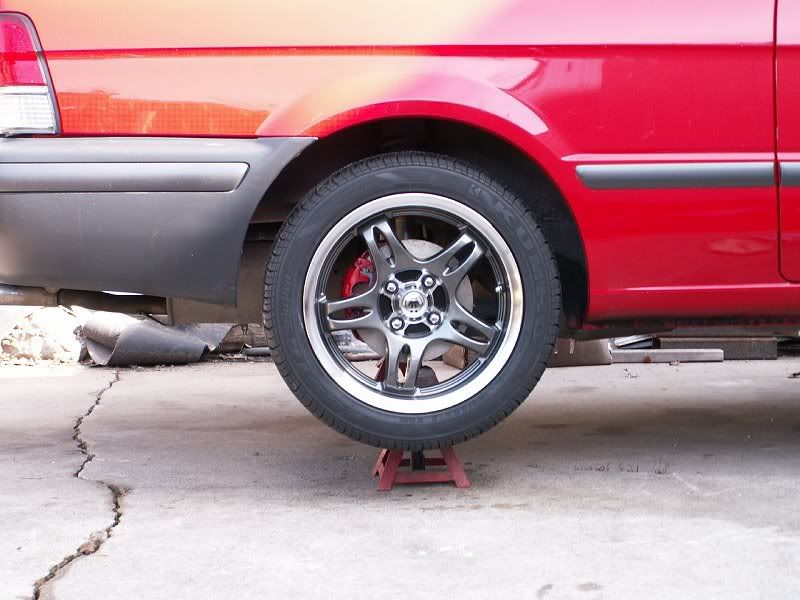 ---
mikeyy

-

5-4-2005 at 08:36 PM



u have ur OWN cleaner station -coolguy-
---
Qballcious

-

5-4-2005 at 08:57 PM



Pretty much all the tools are my pop's. He's a lifelong mechanic/machinist so he's got pretty much every tool you'd ever want. except a welder cause you can't weld indoors in the winter -lol- no garage -lol- wait... -irked-
---
cmack

-

6-4-2005 at 05:06 PM



nice DIY!! -banana-

rims with rear discs -boring--boring--boring--boring--boring--boring--boring--boring--boring--boring--boring--boring-
---
94Tercel

-

7-4-2005 at 12:08 AM



Dude. That was one of the hardest mods every. I honestly changed my brake line like 3 times. the 91-94 at least was a total bitch. anyway it was very helpful tho. just make sure to pack the bearings w/ axle grease like put the bearing in your hand and whipe with it. DO IT ALOT! because it needs it. After like 8 hours of putting the brakes on im finally finished but i did have a problem the bleeder was busted when i got it so i had to replace it with the one from the drum which fit fine. By the way qball how did you get the caliper on with the metal pieces on the pads??? Any way it was a great DIY pictureized thread and someone should deff sticky this. but when you print it out its gunna be 75 pages. lol haha Ill get pics up tomorrow........im tired as shit.
Later
John
---
94Tercel

-

7-4-2005 at 12:20 AM



By the way the starlet axle is no shorter then the tercel axle. I was going to replace it with my axle in the rear but they both are 51 1/2 in a piece. Thought that was interesting since it came from japan?? Maybe didnt come from a starlet? Anyway qball my starlet rear axle didnt come with the rear bearings. the fronts it came with but I duno what happened to the rear ones. YOU NEED TO MAKE SURE THAT THE RACE INSIDE THE ROTOR/DRUM FITS THE EXACT BEARING IT WAS PUT WITH. If you don't that will be a bad thing. haha actually they wear down with the bearing. But i bought new bearings so it wasnt a problem.....still havent done the ebrake tho. darn. have to order some new cables since i sold them to qball. glad they worked out. I might just cut my ends off and fab somtin.
John
---
eviilboy

-

7-4-2005 at 12:38 AM





I think I need a moment to myself.... ...... ..........

-boring--boring--boring--boring--coolguy-

All better now. -love--lachen-
---
racer5e

-

7-4-2005 at 01:52 AM



looks sweet! -coolguy-
---
Walkman5410

-

7-4-2005 at 02:03 AM



interesting white wall choice there lol


that looks so very nice. specially the red painted brakes
---
Qballcious

-

10-4-2005 at 04:41 PM



-lol- -they're not whitewalls man. It's the polished aluminum lip of the rim.

- If you don't replace the race with the bearing it belongs to, that means you have to constantly take off your wheels and readjust the bearing tention with that nut as the bearing wears into the race or visa versa. That's why it's better to use the race that came with it. BTW I was gonna buy new bearings but these sets were both fine.


- repacking a bearing manually takes a long time but it's completly necessary. You can use a bearing-packer attachment for your greasegun but that wastes a lot of grease. Whatever you do do not just slap on a little bit of grease and use install the bearing. Make sure you pack it so the grease oozes out of every opening.


oh yeah...thanks for the compliments and special thanks for the cables 94 -sly-
---
thoughthard2comeupwithths

-

10-4-2005 at 05:26 PM



Someone put on their wheels and tires -banana-
---
Rear Disc Brakes
94Tercel

-

11-4-2005 at 08:58 AM



Well, this is my disc brake conversion. Mine werent that screwed up so it wasnt a big deal.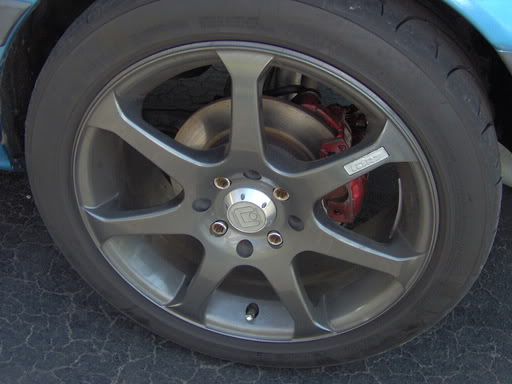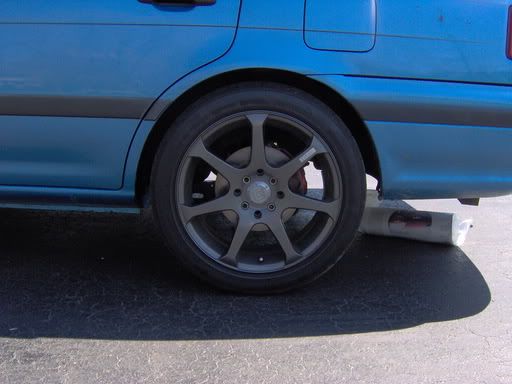 I can get more pics im just lazy. I will do a DIY on how to do the ebrake cables on your original ones. and lots of pics will be available. But if you want more pics ill have to jack the car up and take the wheel off. Enjoy!
P.S. qball your welcome -sly-
---
94Tercel

-

12-4-2005 at 08:31 AM



Wow, no one commented on the car.........i feel bad for myself. lol
BUMP this is a great thread lets see who else has rear discs?
John
---
Tercman 91

-

12-4-2005 at 12:00 PM



Qball and 94Tercel...Great job to the both of you!

VERY impressive!

Defintely worth a sticky!-coolguy--coolguy--coolguy-

[Edited on 12-4-2005 by Tercman 91]
---
Tercman 91

-

12-4-2005 at 12:05 PM



QBALL: Is it necessary to remove the shoes and internals of the drums? Or can you just unbolt the 4 holding olt and take everything off as an assembly?
---
94Tercel

-

12-4-2005 at 03:41 PM



Everything has to come out before hand because the shoes sit overtop the ebrake which makes it so you cant unbolt it. Kinda a pain but the disassembly is the least of your problems.
John
---
Qballcious

-

12-4-2005 at 04:25 PM





like he said. You could just remove the front shoe to get at the e-brake cable but that's just being lazy. Might aswell take it all apart. This also serves as a standard brake job how-to I guess.
---
Tercel GTS

-

12-4-2005 at 05:06 PM



Test drive yet?
---
thoughthard2comeupwithths

-

12-4-2005 at 05:23 PM



Qball, could you list the tools that you used?

(I like to stockpile the tools I could use someday, but they pry will sit in the toolbox -banana-)
---
estabon23

-

12-4-2005 at 06:13 PM





i dunno... my starlet gt axle was shorter than my stock drum-brake axle... but i have a '95 tercel... maybe the '95+ axle is longer than the '91-'94...?
or possibly your axle came off a cynos-B, which came with rear discs on some models...?
--- steven
---
Tercel GTS

-

12-4-2005 at 06:43 PM



Here's something for somebody to check, does the rotor have the wheel mount in the same location as the drum? It may be the rotors that create the narrower width.
-eureka-
---
Qballcious

-

12-4-2005 at 07:11 PM





that's exactly what i was thinking all winter. I wanted to measure before and after but I forgot. -irked-

Today I installed my stock 13" mags and was gonna drive it to work tomorrow but the battery was dead. double-irked-

BTW even my sister asked if I had shortened the axle cause it looked like the wheels were tucked more now with the rotors. I agree. They look like they are tucked farther in than with the drums.....
---
Qballcious

-

12-4-2005 at 07:17 PM





just from memory...

8mm box-end wrench
12mm box-end wrench
10mm open-line wrench
10mm socket
12mm socket
14mm socket
22mm socket
ratchet
6" extenssion for ratchet
needlenose pliers
hammer
flat-head screwdriver
seal puller
seal driver


that's about it.
---
terkydaddy

-

12-4-2005 at 07:18 PM






---
Qballcious

-

21-6-2005 at 05:32 PM



well here's an update. I've definately got that test drive in now. And I've put about 4,000 km on the brakes and they are only now starting to wear in -haha-

I make it a point to use the e-brake and pedal whenever I do a hard stop or when I'm just cruising and coming too close to the traffic infront of me I use the e-brake to slow down a bit.

All in all the braking is pretty good although most of the noticable difference came from the Paseo front brake upgrade.

I think it would be a good idea to upgrade to a Starlet GT perportioning valve to transfere a little more braking pressure to the rear.
---
Help me out!!
pricantoy

-

25-6-2005 at 11:26 AM



Hey guys that was a great job!!! QB the DIY was awesome! Ok, now to what i need.. since im in Iraq and on a government computer the pics to tthe DIY wont come up on the screen, this happens to me on every page!! Id appereciate it if someone took 3 minutes of their time and emailed me that DIY with the pics... thanx alot!!!

My email : gonzalez.ramos@us.army.mil
---
Qballcious

-

25-6-2005 at 04:15 PM



can you right-click on them and save as?
---
Qballcious

-

25-6-2005 at 04:18 PM



the images zipped up are 7.12MB BTW
---
pricantoy

-

26-6-2005 at 09:31 AM



iVE TRIED EVERYTHING QB BUT IT JUST WONT WORK OUT, THE ONLY WAY IS FOR SOMEONE TO EMAIL THEM, I WOULD APPRECIATE IT VERY MUCH. THIS INTERNET SYSTEM BELONGS TO THE ARMY AND THEY BLOCK EVERYTHING, EVEN YAHOO, AND HOTMAIL, AND ALL THE PICS THAT DONT BELONG TO THE ARMY WEBSITES JUST WONT APPEAR ON THE SCREEN.-1zhelp--1zhelp--1zhelp-
---
Qballcious

-

26-6-2005 at 10:27 AM



" gonzalez.ramos@us.army.mil" Is this address correct or is it suppost to be "@us.army.mail"
---
pricantoy

-

26-6-2005 at 12:13 PM



nah QB, its us.army.mil thats the right one, thanx-dunce-
---
Qballcious

-

26-6-2005 at 02:49 PM



alright. i sent the zip file with all the images. Hope you can extract/view zip files. It's the US army so I assume they use WinXp. -coolguy-
---
Qballcious

-

26-6-2005 at 03:27 PM



Sh!t US army mail server stripped any .zip attachments so I changed the file extenssion to .bmp. Once you get it. Change the extenssion to . zip again and you'll be able to open it and extract all the jpg image files.
---
pricantoy

-

30-6-2005 at 11:19 AM



Hey QB, i got the pics, thanks alot man, this is really gonna help me out alot when i get back home and coninue what I started on my baby, ill be posting some pics up soon..-say-
---
zarathos

-

17-7-2005 at 01:53 AM



For the 91 - 94 Tercel owners who did the rear disc conversion a few questions,

- Did you run into alot of the problems that Q ball did?

- Where did you get your Starlet discs from or what was the equivelent used?

- How long did it take?

Good looking out in advance.

UTA
---
gargola15

-

27-12-2005 at 07:34 AM



post the pictures of your work 94 tercel
---
ugabuga

-

28-2-2006 at 10:38 PM



now looking at this I realized something

When I installed my cables i had to do the opposite mod. I had to drill the plate to make the holes larger so that the cable thingies could fit.

I guess my cables were from an ep91 which would have fit your 95+ terc without any mods. And your cables would fit my terc without any mods. oh well... not a big deal but I thought I'd mention for the future generations.
---
spoolin

-

28-2-2006 at 11:12 PM





It does make good sense.
---
poordude2151

-

29-3-2006 at 10:56 PM



To do this on a 92. Is it the same thing. Sorry if you all answered this already.
---
Mr.Black

-

29-3-2006 at 11:04 PM



The rear bearings on the rotors from the Starlet and all year Paseo's and Tercel's are the same from what I have read. The front should be almost the same don't know for sure as I have never replaced the front bearings.
---
Ranger4219

-

7-9-2006 at 09:21 PM



Hi new to the Tercel ranks with my 90 tercel Carb/auto has any thought of maybe trying to put together the complete kit of the rear disc conversion since it seems to fit so many years of tercels and the like. Maybe even having some convert the tips of the brake cables so the tercel style brake cables can be used so there no drilling or real adaptin


Just make it an entire package and make it a giant group buy or something.

Is the any issue with proportioing valve and master cylinder going from front disc/ drum setup to all discs?

By the way may I ask this is for US style cars? For some reason I do not remember the little starlet coming with 4 wheels disc brakes here in states. I even sold toyota's in 87-90. Pardon my noobiness



[Edited on 21-2-2007 by Ranger4219]
---
LawnGnomeHitman

-

18-2-2007 at 08:12 PM



This sounds like fun, I've don Rear Disc conversions before and this looks like Standart stuff, I'm just wondering where you get the parts for this conversion? Can you buy them new or Reman from an auto parts supplier or do you have to wait for one to show up in the salvage yard? If someone can point me in the right direction, I'd appreciate it, my contacts for Toyota parts are lacking.
---
thetruth

-

18-2-2007 at 10:08 PM





The rear axle comes from Japan. So you would need to find an importer (usually eBay) that has them for sell.
---
Ranger4219

-

27-2-2007 at 09:55 AM



Wish to do same conversion on my 90 EL31 Tercel cpe I noticed there are two chassis numbers on your conversion. Are they both the same for conversion Starlet GT EP82 / EP91 rear disc brake conversion for Tercel/Paseo or should i look for a chassis specific version for my 90?
---
ericulberg

-

17-7-2007 at 12:28 AM



I am ignorant a bit here so please bear with me...

Does a tercel...when you break normally with the foot break...break on the back and front breaks or just the front and when you use the E-break just the back? I was always under the impression that only the front wheels break when you use the pedal...

Like I said...ignorant...
---
poordude2151

-

17-7-2007 at 12:34 AM



No sir ,you use 80% braking in front and 20% in back. When you use the ebake it is just the back.
---
airswoosh1

-

17-7-2007 at 01:55 AM





Any idea how much the Starlet proportioning valve changes that?
---
jezza323

-

17-7-2007 at 03:32 AM



i think you will find it is a little more than 20% at the back
---
cable snapped
Qballcious

-

10-10-2007 at 07:10 PM



The other day my e-brake cable snapped. Since the lever was completely loose I assumed it was the short front cable that tore. After throwing it on the hoist at my dad's shop a week later (Thanksgiving day) we found out it was the driver's side rear cable that snapped inside the sleeve. It was totally rusted.

My dad happened to have my old cables from the drums. We modified the back end of the cable using the starlet sleeve stop and the little eyelet that connects to the caliper. We cut the drum brake cable to length and brazed the eyelet on.

Works great now. That's the downside to using 16 year old Starlet cables.
---
mulberry

-

10-10-2007 at 07:37 PM






I bought brand new cables from Paul at starletparts and listed the part numbers on this site.
---
Qballcious

-

26-10-2007 at 04:27 PM



what did those run ya'?
---
mulberry

-

26-10-2007 at 05:42 PM





I believe with shipping all three pieces were 125-130 USD. Front cable, left and right cable. Send a U2U to Paul at Starletparts.
---
Qballcious

-

27-10-2007 at 04:51 PM



I will say this though. The benefit of modding the original Tercel cables instead of using starlet cables is that the cables actually fit into the factory clamping locations. The Starlet cables are a few inches too short for a Tercel so one has to string them as the crow flies.
---
antot86

-

13-1-2008 at 02:34 AM



i was wondering...might any of you know of any site where i can order online the backing plate for the disc brakes?
---
paseo96

-

31-5-2008 at 04:08 PM



can you help me to find the complete kit, I want to do the same conversion but i cant find the parts

HELP!!!!
---
Dzaster

-

31-5-2008 at 04:20 PM





Have you tried asking GT_REVVA. I thought I read that he might be able to help getting those parts or at least better direct you.
---
GT_REVVA

-

31-5-2008 at 04:46 PM



in the works right now.
the plan is to eventually have/keep those in stock at all times.

keep an eye on the T-Bay thread for updates.
---
paseo96

-

1-6-2008 at 10:00 PM



and when is that gonna happen?, cuz right now Im thinking to adapt some of a se-r
---
Dzaster

-

14-6-2009 at 12:40 AM




Proceeded with my swap today and found some interesting details that differ from this here write up. However, for teh most part, it was awesome to follow.

My set was from a Glanza(EP91).

My cables had the same size ends. Tercel left and Glanza right.




However, I did find a problem where the banjo fitting hit the part the backing plate mounts too. I had to grind it or the banjo and bolt would get in the way.




I was wondering if anyone knows whether or not the two cables are specific as to which side it goes on--driver or passenger. Anyone?
Reason being, the passenger side cable was actually tigher and did not fully release even when hand brake was down.

[Edited on 6-14-2009 by Dzaster]
---
Tercel GTS

-

14-6-2009 at 01:21 AM



No bracket to support the brake lines by the wheels like these and a hard line?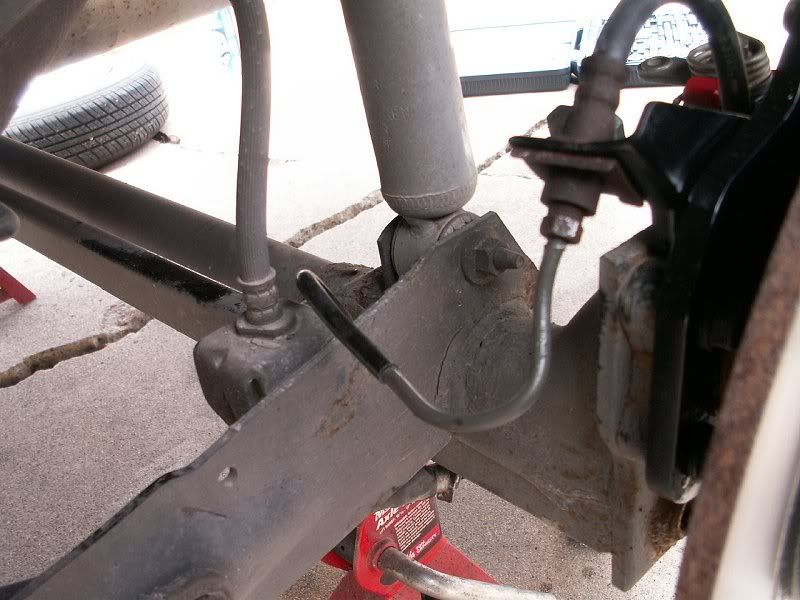 [Edited on 14-6-2009 by Tercel GTS]
---
Dzaster

-

14-6-2009 at 02:32 AM



I have SS Braided lines with my kit. It's just one long line per side. No harndline or rubber line, therefore, not using the bracket. However, the problem is the banjo fitting and the bolt that locks down the banjo end to the caliper. I couln't even get the caliper mounted to the bracket, that is how badly in teh way it was. That's been taken care of.

What I'm really trying to focus on is the e-brake cable--if they are specific to each side--driver/passenger. I think what I'll do is take it off and lube down in the lines.
Yeah?

I was able to use all the mounting points, but I had to move one on each cable.

---
Dzaster

-

15-6-2009 at 09:15 PM



So the cables are different.

This is teh tercel cables, but I think it applies to the starlets as well and I think I prolly mixed them.




About 1" length difference.

Also notice the Tercel cable is tagged with colored tape--one green the other yellow.

I bolted back up the heat shield that protects the cables from the heat in the exhaust track once I attatched the ends so I never got to see what it loocks like in the junction where the two cables meet with the singel cable coming off the e-brake lever. I'm thinking that it is probably badly tilted since the one that is supposed to be longer is actually a bit shorter and that one thats supposed to be short is a bit longer.
---
Qballcious

-

10-10-2009 at 08:26 AM



BTW - I still have a spare set of Starlet rotors if anyone wants them. I clearly have no need for them anymore...and could use the gas money.

$50+Shipping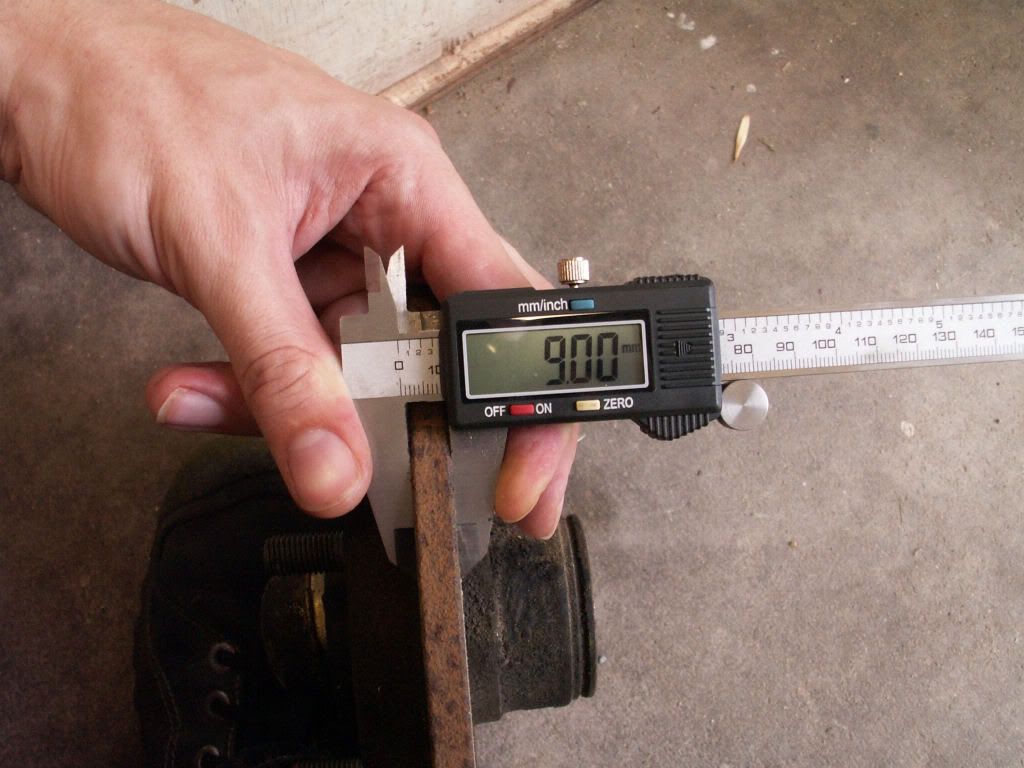 ---
sleepercel

-

29-9-2010 at 08:20 PM



Q

where did you get the 10mm counduit for the ebrake cable thingy ?
---
cdnred99

-

29-9-2010 at 10:09 PM



sleepercel if you are doing this swap on a 5th gen you should be able to swap the cable equalizer (thingy) from a bone yard 4th gen, it has smaller holes than the 5th gen and should work with the starlet cables.
---
sleepercel

-

29-9-2010 at 10:12 PM



I have a 4th gen and the holes are two big I am using the fx16 gts cables
---
cdnred99

-

29-9-2010 at 10:27 PM



i almost grabbed a set of 4th gen cables for our 5th gen when i noticed the ends were smaller,i don't know what year the 4th gen was, perhaps Toyota changed the size in mid run and then carried it into the 5th gen
either that or the cables you have are even smaller than all the 4th gen's. anyone have some 4th gen cables that they can measure?
---
merk102

-

15-9-2011 at 12:04 AM



I hate to revive such an old thread, but that backing plate. Does anyone know the part number? or if it was just ripped off of the disc brake dust cover sub-assy??
---
Tercel GTS

-

15-9-2011 at 11:25 PM



Normally comes with the EP brake swap as it is the caliper bracket.
---
tercelkisor

-

23-10-2011 at 06:52 AM



i find starlet calipers and rotors online easily. is it the bracket that is the hard part? why do people say that this is difficult/expnsive?
---
TRD98LE

-

9-1-2012 at 11:55 PM



Can we get a parts list with OEM numbers? I was looking into this backing plate/ torque plate from the Starlet but came up with nothing.

1. Calipers
2. Rotors
3. Seals
4. Bearings
5. Backing Plates/Caliper Brackets/Torque Plates (pick one)it's all the same.
6. Brake Pads
7. E-Brake Cables
8. Bolts for Backing Plates (longer)

Anyone can add in anything I forgot, I also noticed that there was no dust shields in the Starlet setup.
---
Throttler

-

10-1-2012 at 05:47 AM





http://board.tercelonline.com/viewthread.php?tid=37259
---
TRD98LE

-

10-1-2012 at 07:45 PM



There has to be a place where we can order the REAR suspension from a car that bolts on to the Tercel. I did a WRX rear disc onto a Forester that had drums and it only cost me $300 shipped to my door. How about the FX16 rear suspension, which would be the USDM version of the JDM Starlet, right?.
---
Loki_v2

-

11-1-2012 at 01:15 AM





The Starlet/Tercel/Paseo rear suspension is unique to those cars. I don't think anything else uses a trailing beam setup like that in the Toyota family. As a result though, the brake set up is unique as well, you have the spindle literally part of the rear axle, with the bearing integrated into the drum/disc. You see that on a I think MKIV Golf, a Sentra, a couple of Saturns and.. whatever cdnred sourced. And maybe some minivans. Start from there if you want something remotely similar.

Also an FX16 is a Corolla all around.
---
looking for a parts lits for rear disk conversion
heathfiedler

-

28-3-2014 at 10:02 PM



i got a 93 paseo im lookin to do a rear disk conversion, i think i already found the rear rotors i need, i just need a list of other parts ill be needing to finish it, like what sort of calipers and what not. any help would be helpful
---